Camping with Custodians offers a new way to immerse yourself in local culture.
Have the trip of a lifetime uncovering the north west's natural wonders while giving back by Camping with Custodians. The Australian-first network of campgrounds on Aboriginal lands is owned and operated by local communities and offers high-quality amenities.
But the campgrounds are not just about calling somewhere home for the night: each campground allows campers to interact with community members and gain insight into local culture. Whether sitting in a yarning circle listening to the impassioned stories from a local elder under a starry sky or learning to make damper on the campfire, these unique camping experiences will enrich your connection to country.
Time to pitch with purpose as we highlight the Camping with Custodians' campgrounds across the region.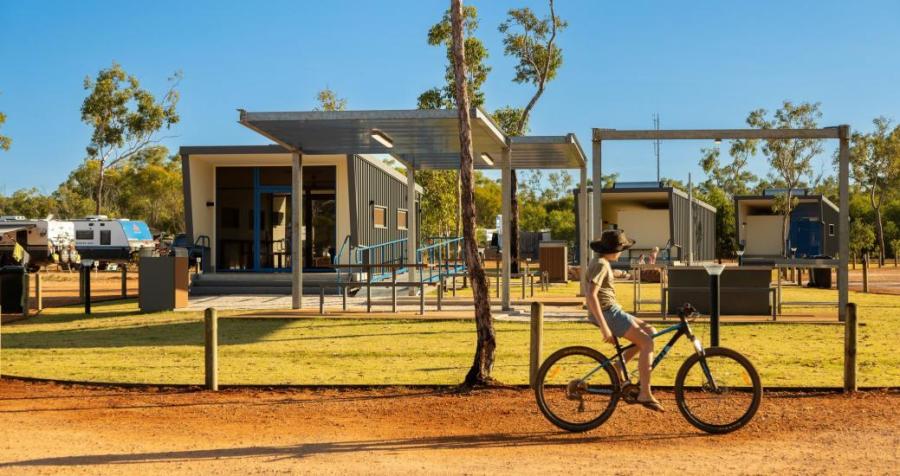 Djarindjin Campground
The network's newest campground, Djarindjin, opened in May 2022 and is on the doorstep of adventure. Located along the Dampier Peninsula on Bardi country, the campground is easily accessed by 2WD vehicles along Broome-Cape Leveque Road. The peninsula's natural charms, such as Cygnet Bay Pearl Farm (27km), One Arm Point (24km) and Lombadina (2.8km), are only a short drive away.
Djarindjin features 37 powered sites catering to caravans, large RVs, and ten unpowered sites offering ample space. Campers will be impressed with the campground's flashy facilities, housed in modern shipping container-like builds surrounded by manicured lawns.
Its new indoor kitchen is a camper's dream. It features camper comforts, including fly-mesh doors to protect your camping crew from pesky insects, a ceiling fan, laundry-sized sinks, a central barbeque and two seated areas. If wanting to stay outdoors, Djarindjin also includes multiple barbeques, undercover picnic table areas and a yarning circle.
In addition to its stylish social spaces, campers will also be delighted with the three ablution blocks for keeping clean. Each block includes flushing toilets and hot showers, with the central ablution block featuring wheelchair access.
The campground also neighbours Djarindjin Roadhouse, offering takeaway food, essential items, and a tour booking office for regional exploration. Easy!
Visit: Djarindjin Campground
 

Mimbi Caves Campground
If travelling along the Great Northern Highway, make sure to call it a night at Mimbi Campground – we promise the slight detour is worth it!
Just 95km south of Fitzroy Crossing, the campground rests along the foothills of the stunning Emmanuel Ranges, with the lofty Mueller Ranges in the distance.
The intimate campground on Gooniyandi country features 15 unpowered campsites and modern amenities such as flushing toilets, hot showers and a large undercover barbeque area. It also includes a yarning circle and a large wooden table you'd expect to find at an upmarket furniture store perfect for big camp cook-ups.
But it's not just about sleeping next to soaring heights; the campground location is about checking out what's hidden deep within. Enter the Mimbi Caves, the campground's namesake natural marvel. The caves form part of the 350-million-year-old Devonian Great Barrier Reef, stretching across the Kimberley region.
Take a guided tour journeying the limestone cave's incredible labyrinth pathways, discovering fossilised reefs, natural pools, crystal formations and ancient rock artwork along the way. It's one walkabout through country you'll never forget.
Visit: Mimbi Caves Campground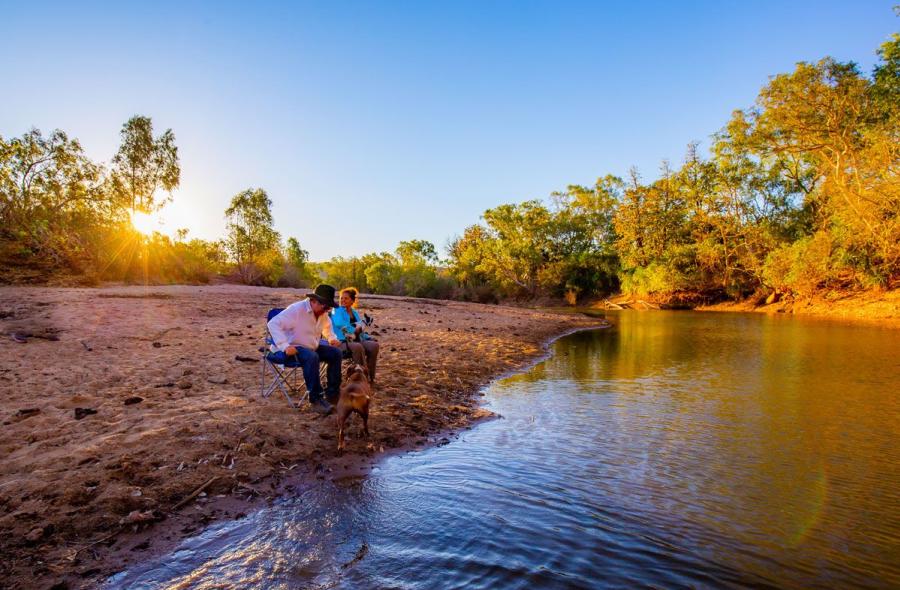 Doon Doon Campground
Do make sure you go to Doon Doon Campground, just 110km south of Kununurra along the Great Northern Highway on Ngarinyin country.
The campground rests opposite red-rusted ranges surrounded by lush bushlands. But besides neighbouring great natural assets, Doon Doon Campground boasts other outstanding reliefs, such as its communal facilities that received a modern makeover in 2019. The large undercover camp kitchen features barbeques, electric hot plates and cooktops, a small fridge, multiple sinks and a seating area.
The communal space is sandwiched between the campground's designated caravan (powered) and camping (unpowered sites). The latter is on green grasslands with a contemporary design yarning circle being the camp's centrepiece. The campground also has four cabins available if you want to treat yourself to a proper bed.
Ablution blocks require key entry to its separate male and female areas, featuring flushing toilets and hot showers.
Next door is Doon Doon Roadhouse which sells essentials and hot food items. We recommend sinking your teeth into their famous homemade burgers; we're sure it will have you wanting to drive-thru Doon Doon again!
Visit: Doon Doon Campground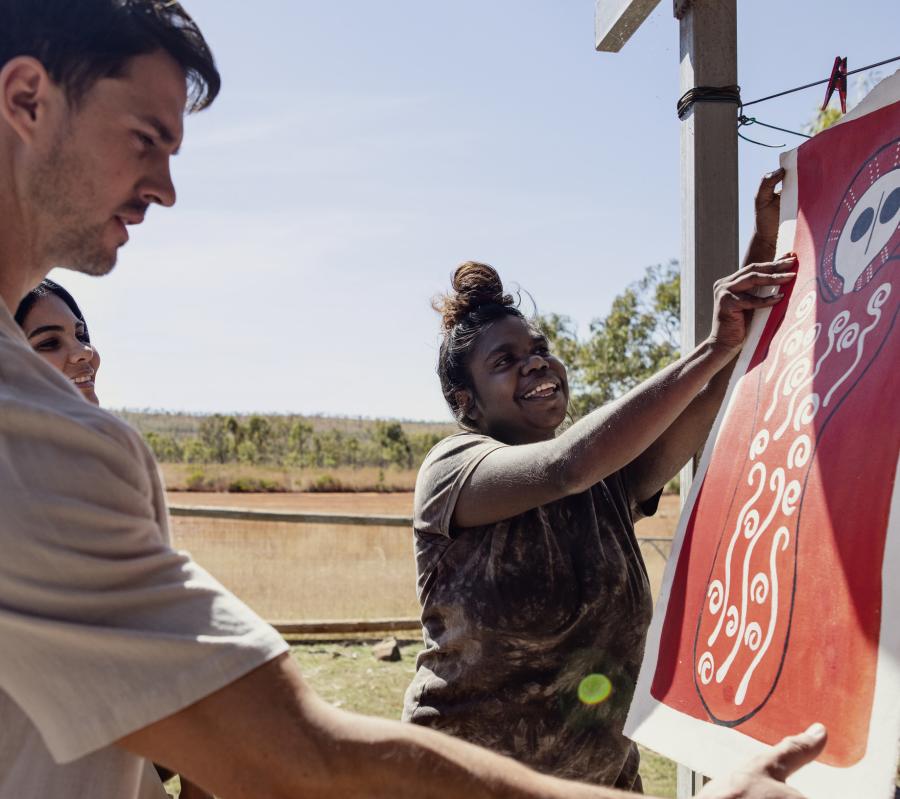 Imintji Campground
Be inspired by nature with a stay at Imintji Campground.
Located on Ngarinyin country, this tree-ridden campground rests at the base of the Wunaamin Miliwundi Ranges (formerly known as King Leopold Rangers) along the legendary Gibb River Road. It's a campground for nature lovers offering spectacular views of the flame-red ranges and Insta-worthy sunsets. Other spectacles in close radius include the Falls at Bell Gorge, Windjana Gorge and Tunnel Creek.
The sprawling campground offers modern facilities, including an undercover camp kitchen area complete with barbeques, sinks and a dining area and an ablution block.
An onsite community store offers basic amenities and diesel fuel. But if wanting to takeaway more than just a coffee, visit the Imintji Art Centre selling colourful artworks by local artists.
Visit: Imintji Campground and Arts Centre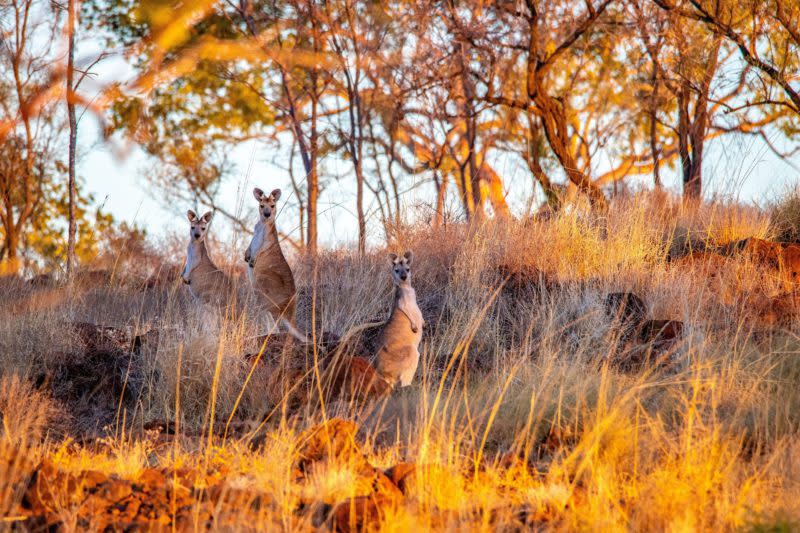 Violet Valley Campground
Some places are worth the bumpy ride, and Violet Valley Campground is one of those.
Gallant travellers can access the wilderness campground on Gija country via 4WD or off-road campers/caravans, just 13km off the Great Northern Highway. But once in the East Kimberly campground, campers will be glad they made the journey. It offers 14 campsites in a savannah setting along the Bow River with the Gateway to the World Heritage Listed Bungle Bungle (Purnululu) National Park 36km away. Those with a keen eye can also enjoy playing wildlife bingo with abundant wildlife spotted in the area.
Regarding campground amenities, Violet Valley does not disappoint with its hot showers, flushing toilets, barbeque facilities and fire pit.
Visit: Violet Valley Campground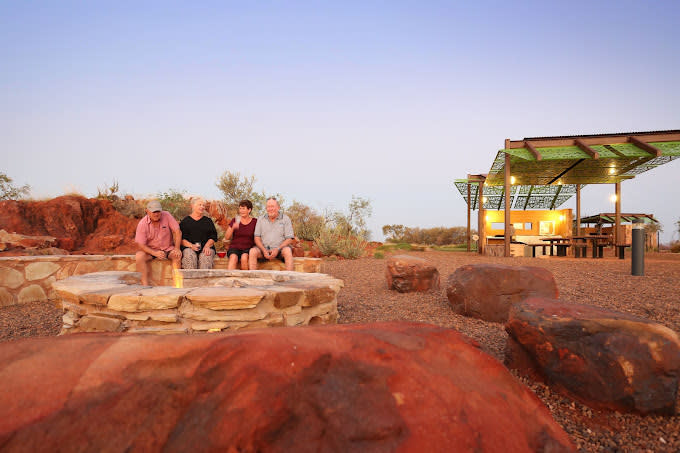 Peedamulla Campground
When in the Pilbara, make a pit stop at Peedamulla Campground on Banjima country.
The Pilbara's only Camping with Custodians' campground rests at the historic Peedamulla Station, only 7km from North West Coastal Highway and 70km west of Onslow.
Campers will love the campground's fresh appearance: an inspired-by-nature camp kitchen with neat stone landscaping. Rustic luxuries include modern ablution blocks (hot showers and flushing toilets), a shaded barbecue area, and a communal campfire with furry friends also welcome. But get in quick – the cosy campground features 20 campsites, including five powered and 15 unpowered sites.
The campground office/shop is in a beautifully restored heritage building with relics of the cattle station's past on display, including ruins of a bygone era. Venture further afield to explore the coastline and wetlands via an off-road 4WD adventure, or discover more about the property by having a yarn with the local Aboriginal owners, the Parker Family. Camping never felt more cultured.
Visit: Peedamulla Campground