Often referred to as the gateway to the Kimberley, the Dampier Peninsula is a place like no other – deserted islands, waterfalls in the ocean, hidden rock pools, and some of the most incredible sunsets you will ever get to witness.
The Dampier Peninsula is a place filled with adventure and excitement, but at the same time, it's a place filled with solitude and relaxation. It's a place filled with culture and love, but at the same time, it's a place filled with reflection and learning. It's a place filled with overwhelming beauty, but at the same time, a place filled with quiet modesty and respect.
But above all, the Dampier Peninsula is a place that welcomes you; the very second you set foot on that glorious, glorious red dirt.
Here are four unique experiences that will have you revelling in the Dampier Peninsula – taking in its adventure, culture, beauty, and of course, love.
1. Stay at Pender Bay
Love heart shaped rocks, explosively colourful sunsets and mermaid-vibe rockpools, what more could you want? A bath-tub on your own private clifftop camp-site? Say one that allows you to soak it all in while you quite literally soak it all in? Well, you're in luck - Pender Bay has that too!
Pender Bay hosts a number of amazing beach front camp-sites, each providing incredible vistas over the turquoise and red bay, while at the same time, being surprisingly secluded from one another (there are 28 campsites in total). While it's very tempting to simply stay at your campsite and take in the beautiful view unfolding in front of you, Pender Bay is well worth exploring. A short stroll along the beach will take you to one of the most incredible rock formations you have ever seen – love heart rock. Visiting the rock at sunrise is especially beautiful as it's lit up by the rising sun, giving a whole new meaning to the saying "heart of gold". A(nother) stroll, but on the other side of the beach (two hours either side of low tide recommended) will take you to a beautiful and hidden rock-pool and some amazing towering (almost castle-like) cliffs. If you have the time (and the tides permit!) stay and watch the sunset here as the colours will quite simply take your breath away (just be mindful as this means you may need to navigate back to your camp in the dark).
TIP – when booking ahead, try and secure site #C2 as this is the only site (currently) with the coveted bath-tubs.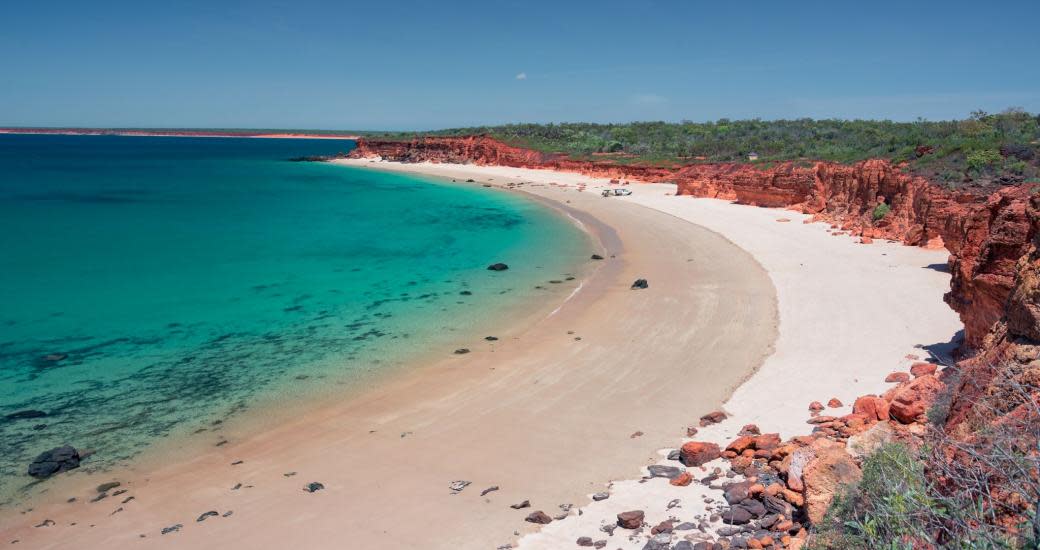 2. Waterfall Reef Tour at Cygnet Bay Pearl Farm
You know those moments you have - where you can almost feel your brain telling you, right as it's happening, that this is a moment you will want to hold onto forever? A moment you will cherish, savour always and reflect on in the years to come.
Seeing a flowing waterfall in the middle of the ocean was one of those moments.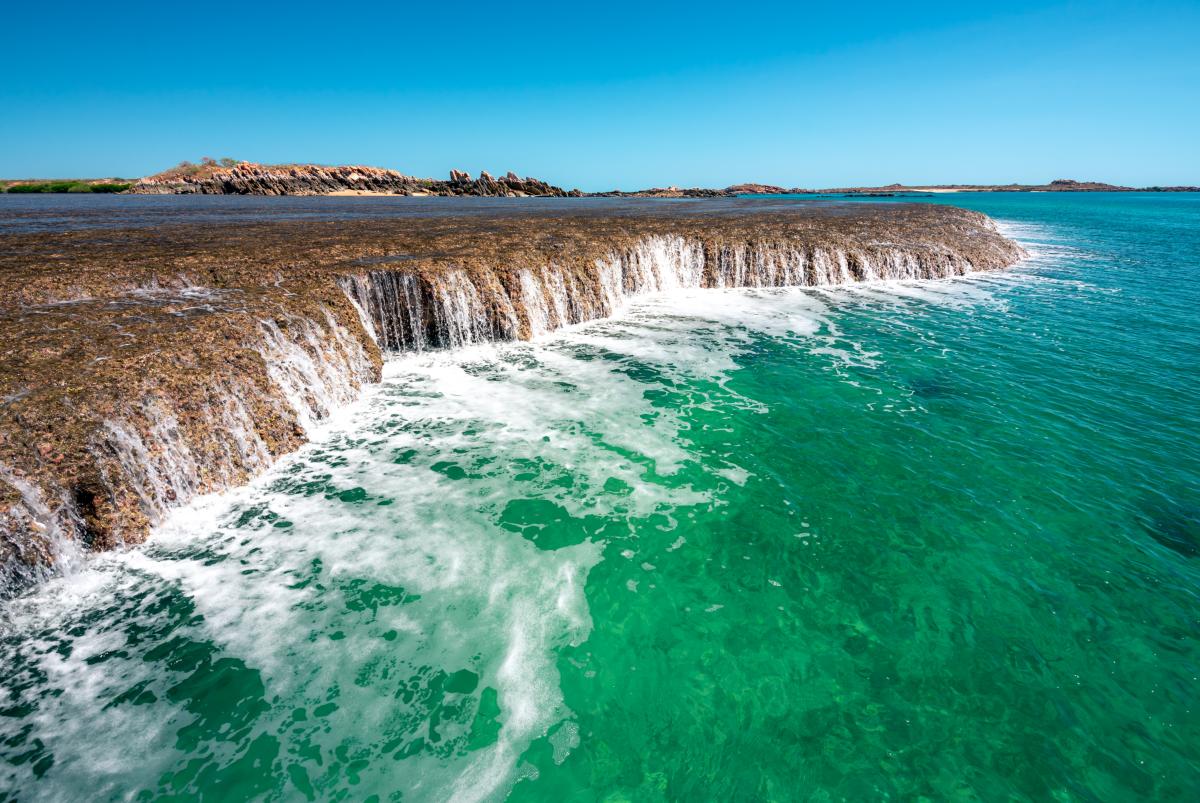 Cygnet Bay Pearl Farm is full of incredible and unique tours – island tours, sea safaris, and of course, pearling experiences. While we were lucky enough to do several tours with the team out there, the Waterfall Reef Tour was a real highlight for us.
Riding the amphibious vessel (aptly named 'Sealegs'), spotting wildlife (so many turtles!), checking out what the local pearl farmers were up to and of course seeing the remarkable waterfall reef, it was all just incredible. It took me back to when I was a little girl and would dream up (slightly fictional) wonders – a handbag that refilled itself with red jelly beans every time you pushed the secret button, a micro-chip you could put in your belly-button and then speak fluent cat and dog, and an automatically changing top that would transform itself based on the weather (going from singlet to tee shirt to long sleeve). Someone had done just the same thing as me - dreamed up a wonder, but then actually executed it – placing a beautiful, almost fictional, waterfall in the middle of the ocean.
Cygnet Bay Pearl Farm also offers a range of accommodation from good ol' fashioned camping to the incredible new safari tents, or if you're feeling in the mood for a bit of luxury, there's even a few air-conditioned pearlers shacks available. When you're not busy learning, living and laughing on one of the Cygnet Bay tours, you'll likely be in one of three spots. Relaxing in the beautiful infinity pool, eyeing up some beauties in the farm gallery (I'm still waiting for my husband to 'surprise' me with the gold pearls I showed him there) or dining at the restaurant (if you're game, give the fresh pearl meat a whirl!).
TIP – if you're looking to camp at Cygnet Bay Pearl Farm, we adored sight DC1 – it had beautiful shady trees decorated with old fishing buoys and the fresh drinking water was top notch.
3. Sunset in Style at Cygnet Bay Pearl Farm
While we are on the topic of Cygnet Bay, there's actually another tour that still gives me goosebumps even thinking about it now. In our opinion, it somehow seemed to encapsulate the Dampier Peninsula as a whole – giving you that wonderful sense of isolation but with community, that glorious feeling of relaxation but with a side of fun, and that beautiful Kimberley scenery, but with a constantly changing landscape.
Catching a small boat out onto a deserted (and tidal dependent) island made entirely of tiny white shells, sitting on a rug with a small group of other tour-goers, and watching as the sun slowly sunk into the horizon – it was just the perfect way to end a day. Watching how Shell Island (most appropriately named!) transforms throughout the course of the evening will also leave you speechless - you will feel like you're leaving an island that is totally different to the one you arrived at just hours ago!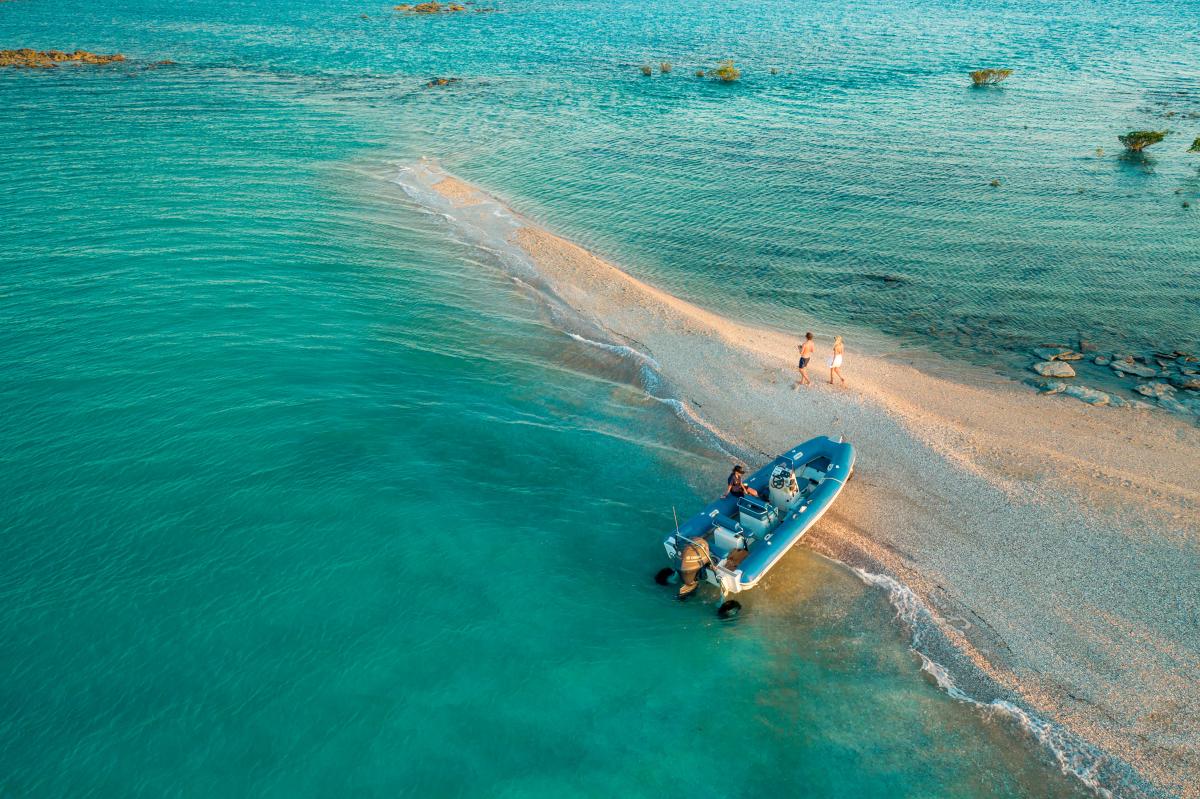 The kind staff at Cygnet Bay also invite you to pack your own snacks and drinks for this tour, so you can enjoy your favourite nibbles and bubbles/brews while you spend the evening on your own deserted oasis.
TIP – as the island is made of (beautiful but sharp) shells, we recommend wearing sandals/thongs rather than going barefoot.
4. Feel, Listen and See with Brian Lee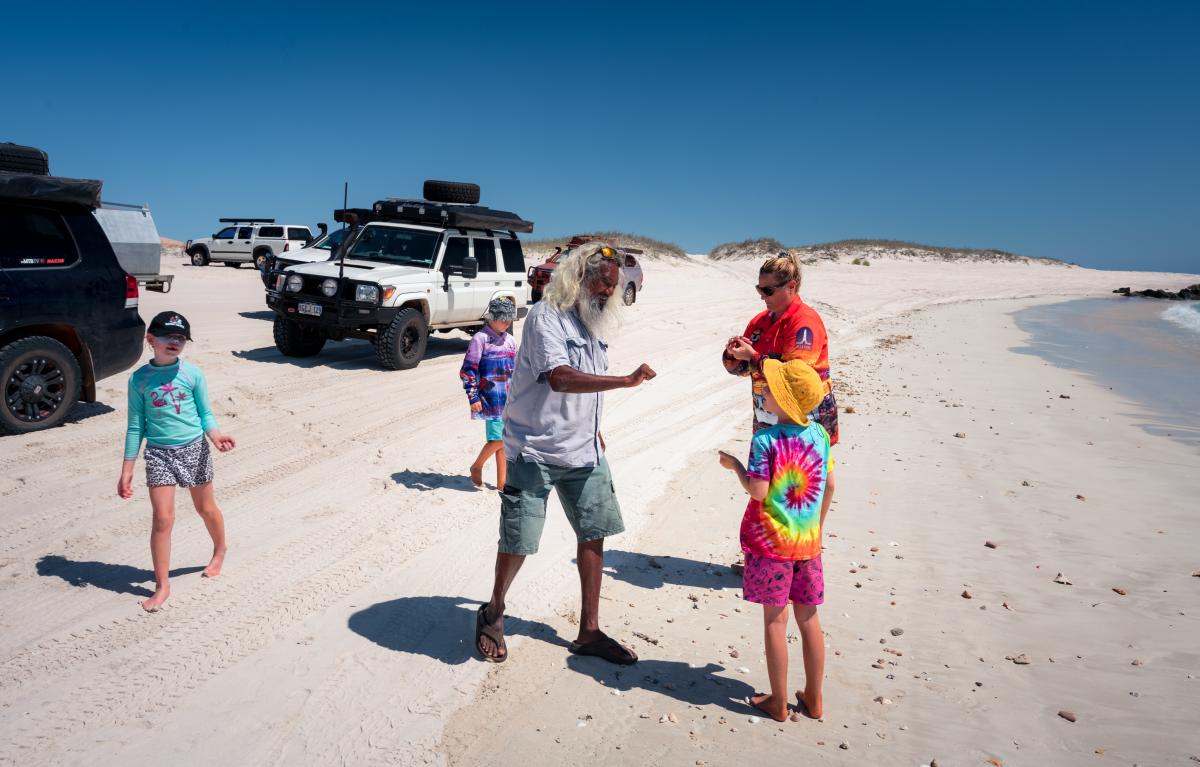 While we were on the Dampier Peninsula, we couldn't help but notice everyone raving about a tour with a guy named 'Brian Lee'. After a few inquiries and a lot of positive reviews, we found ourselves booked into the next tour, and waiting to meet Brian the very next day.
To say the very least, the day was a blast. Brian took us and about 9 other 4WDs on the most adventurous and unique day. We tagged along to Hunter Creek, which is quite simply one of the most beautiful locations in the entire Kimberley (and one we hadn't even heard of before the tour!!). At Hunter Creek, we were able to kayak, swim, relax and to the delight of us all (especially the wee kiddies on the tour!) go mud-crabbing.
But while Hunter Creek was absolutely stunning (and I cannot emphasise this enough!!) we felt the real wonder occurred throughout the entire day. With all the little pull-overs and stops where Brian would generously share his country with us all – showing us the traditional ways of the Bardi People and offering interesting and meaningful Aboriginal perspectives.
His tour left me thinking of a) how delicious mud crab is, but mostly b) the sentiment of Maya Angelou; that you truly never forget a person for the way they make you feel. What Brian Lee ignites in you, what he shares, what he makes you feel - trust me, you won't forget either.
TIP – if you have your own fishing rods, make sure you bring them! You will also need to pack sunblock and food for the day!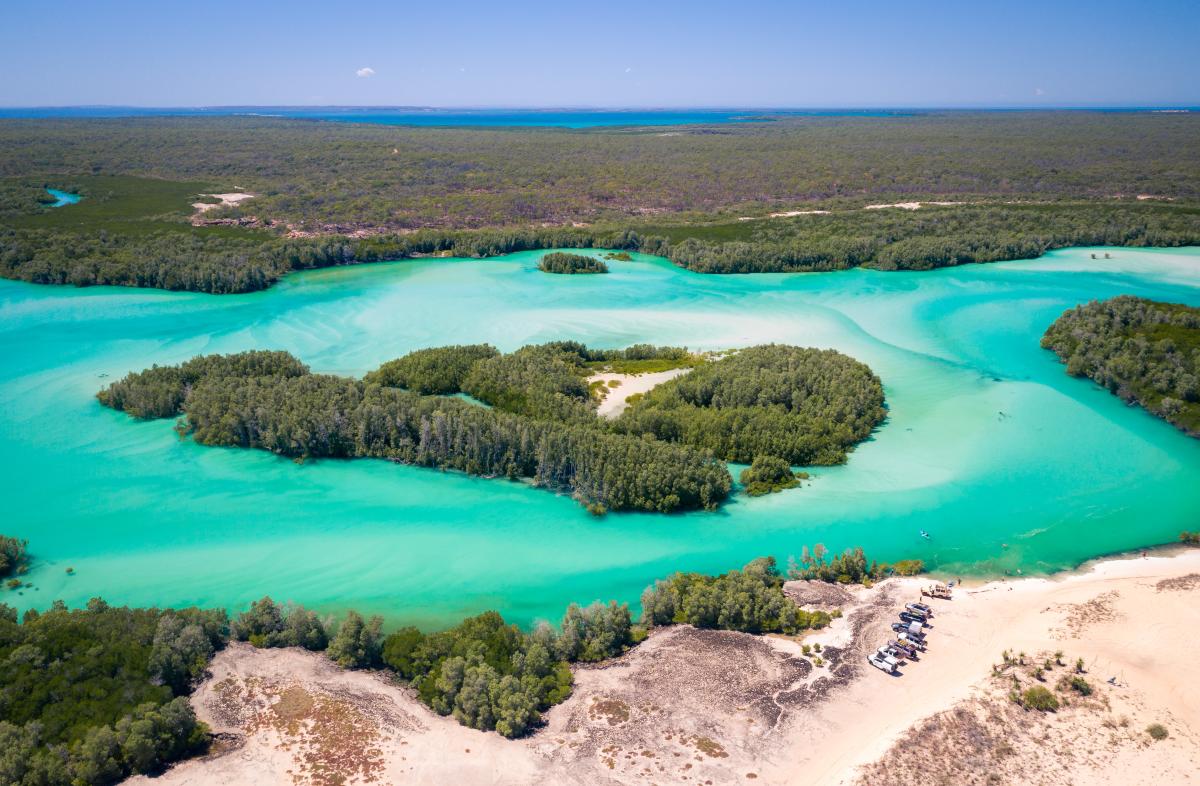 From watching the sinking sun on your own private island to learning how to cook mud crab on an open fire, to watching the sunrise from your own thatched beach hut, to feeling the red sand simply slipping between your toes, I hope you enjoy it all. Enjoy the unique experiences, moments and feelings that make the Dampier Peninsula so special.