Dampier Peninsula
Take the 200km trip north of Broome to the Dampier Peninsula and Cape Leveque, where a striking contrast of pindan cliffs, white sand beaches and clear turquoise waters creates the perfect backdrop to a unique cultural and coastal adventure!
The local Bardi and Nyul Nyul people invite you to discover their traditions and explore their country. Go fishing, mud crabbing or learn ancient hunting techniques. Taste bush foods, swim in the sparkling waters, go snorkelling, or simply relax and enjoy the wide-open stretches of pristine beaches.
Note: Kooljaman at Cape Leveque is currently closed and communities may have limited or no access for visitors under current COVID-19 restrictions. We recommend that travellers check with the Broome Visitor Centre for up to date information on which communities and campgrounds are currently open. 
Driving north from Broome to the Dampier Peninsula
The Dampier Peninsula is accessed via Cape Leveque Road. The turnoff is located approximately 20 kilometres from Broome, on the Broome Road. The Cape Leveque Road is now a sealed all-weather road, but high-clearance 4WD vehicles are still required to access many locations along the route which remain unsealed. Alternatively, join a 4WD or scenic flight tour from Broome.
Manari Road
Just after the road changes to that beautiful Kimberley pindan, you'll find a left hand turn onto Manari Road. Drive to Willie Creek Pearl Farm for a tour, breakfast or lunch, or continue on to the northern Broome beaches at James Price Point. 
Beagle Bay
Call into the Aboriginal community at Beagle Bay, 100km north of Broome to get your first taste of the region's unique history. The heritage listed Sacred Heart Church was built by local Aboriginal people and the Pallotine Monks in 1917, and local pearl shell decorate the walls, floor, and the incredible pearl shell altar.
Pender Bay
North of Beagle Bay, turn onto the Middle Lagoon Road and follow the 4WD only track for a range of nature-based cultural and camping opportunities, from unpowered sites to safari tents and cabins.
Lombadina
At Lombadina, take a guided tour of the Community, including its historic bush timber church. Enjoy the beach and fishing, kayak along Thomas Bay, or learn to hunt for mud crabs.
Cygnet Bay Pearl Farm
At Cygnet Bay Pearl Farm on the eastern side of the Peninsula, you can camp or stay in safari tents and cabins. Enjoy the restaurant and pool facilities, and join tours of the working pearl farm, as well as cultural and sea safari tours. 
Ardyaloon - One Arm Point
Ardyaloon (One Arm Point) is the northernmost community on the Dampier Peninsula, and day visitors (permit required) can visit the beaches, trochus shell hatchery, and watch the amazing tidal movements of the King Sound from the round rock lookout.
Vehicle and Campervan Hire
To discover the Dampier Peninsula on a self-drive adventure, you'll find both car and campervan hire in Broome.
Accommodation on the Dampier Peninsula
You'll find a range of accommodation to suit most travellers, from simple bush camps and beach shelters to basic cabins and luxury self-contained safari tents. Bookings are essential at all accommodation sites.
Discover genuine history & expertise at Broome's working pearl farm. Stay in this remote, untouched wilderness & soak up the beauty of the Kimberley…
Cultural Experiences on the Dampier Peninsula
Go with the flow and share a cultural experience with the local Bardi Jawi people while you are visiting the Dampier Peninsula - learn traditional fishing and hunting techniques, taste bush foods, learn useful bush medicine and hear about the special relationship between the surrounding land and sea. Here are just some of the wonderful tour guides and tour options you'll have to choose from!
Scenic Flights
See the Dampier Peninsula by fixed wing scenic flight or helicopter, landing at Cape Leveque or Cygnet Bay to enjoy the beautiful beaches or join pearl farm and boat tours. Full or half day options are available, and it's also possible to transfer from Broome to the Dampier Peninsula by air.
4WD Tours & Private Charters
Take a day or extended tour of the Dampier Peninsula by 4WD. Group tours with daily departures and private charters are available.
Whether you like bush camping, or the comforts of a safari tent or cabin, you'll find a place to stay surrounded by nature and with incredible views on…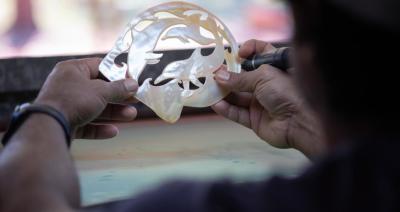 Permits & Fuel
Permits are not required to travel on Cape Leveque Road. However, a small access fee applies to the communities of Beagle Bay, Lombadina and One Arm Point, payable at the community offices. 
Fuel may be purchased at One Arm Point, Djarindjin and One Arm Point. We recommend that travellers check with Broome Visitor Centre for up to date information on community and campground openings prior to travelling.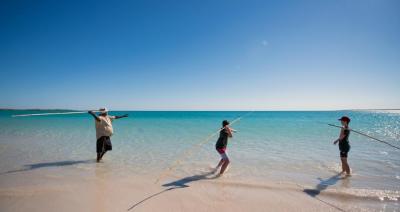 When to Visit
The best time to experience the Dampier Peninsula is during the Dry Season (May-October). During the Wet Season (Nov-Apr) the Cape Leveque Road may experience closures due to weather conditions, and facilities on the Peninsula are also limited. Prior to travelling, check road conditions and closures with the Broome Visitor Centre.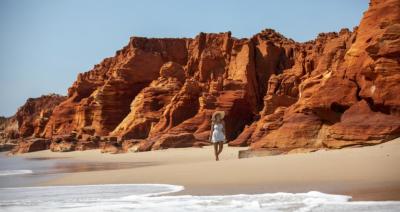 Restaurants & Shopping
Cygnet Bay has a restaurant on-site; opening times may vary seasonally. At Ardyaloon and Beagle Bay you'll find well-stocked stores. 
Locally made crafts and souvenirs may be purchased at Lombadina and the Ardyaloon Hatchery, and Cygnet Bay Pearl Farm where you'll also find elegant jewellery featuring locally grown pearls.