So, you think you know Broome? Think again – Broome's historical, cultural and commercial heart in Chinatown and the foreshore area at Town Beach have been rejuvenated, the Cape Leveque Road sealed and there's a host of new attractions, tours and experiences waiting to be explored!
1. Dip a toe in the water at one of the world's best beaches
It's routinely named in lists of the world's best beaches (including #2 in Australia, and #11 in the world in Tripadvisors Travellers Choice Awards 2022), and anyone who's experienced Cable Beach's 22km expanse of pristine white sand and calm turquoise water understands why. There's no better place to while away the hours, whether it's a dip in the ocean, lounging under a beach umbrella, or getting more active and swimming, fishing, or paddleboarding. Take a guided kayak tour to explore the warm turquoise waters around Gantheaume Point, and see the sunset on one of the last operating pearl luggers in Australia, or from high atop one of Broome's famous camels.
Directly behind the dunes is Broome's Dreamtime birthplace in the coastal reserve of Minyirr Park, where colour-coded walk trails wind their way through bushland and over the dunes with panoramic views. Discover more about this sacred place from local guides.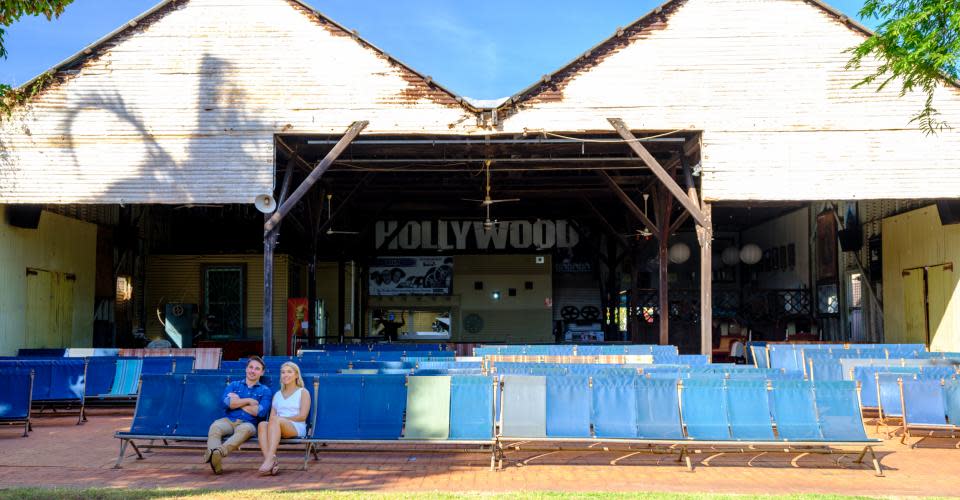 2. Take a trip into the past and catch a movie under the stars
Walk through Broome's Chinatown nowadays and you'll find pearl jewellers, art galleries, cafes and restaurants, mingled with reminders of the rough and tumble pearling days gone by in the rusty sheen of the corrugated iron buildings and the timbers bleached by sun and rain.
In recent years the precinct has undergone a revitalisation to enhance its historical charm while making it much more engaging for visitors. The world's oldest operating picture garden, Sun Pictures, still takes pride of place on the main drag, while a new attraction, the Roebuck Bay Lookout, provides sweeping views over Roebuck Bay and Dampier Creek.
Follow the heritage trail, or to really unravel the many secrets of this storied destination a variety of walking tours are available, their hosts all with long Broome lineage.

3. Witness the mystical Staircase to the Moon
Staircase to the Moon, Stairway to the Moon, Stairway to Heaven – whatever you call it, the experience of seeing a staircase dappled across the exposed tidal flats of Roebuck Bay as the moon rises will stay with you for a long time.
This otherworldly natural phenomenon takes places each month between March and November, and the prime viewing locations are at Town Beach where there are also night markets in season, the Mangrove Hotel and the new Roebuck Bay Lookout. See here for dates and times.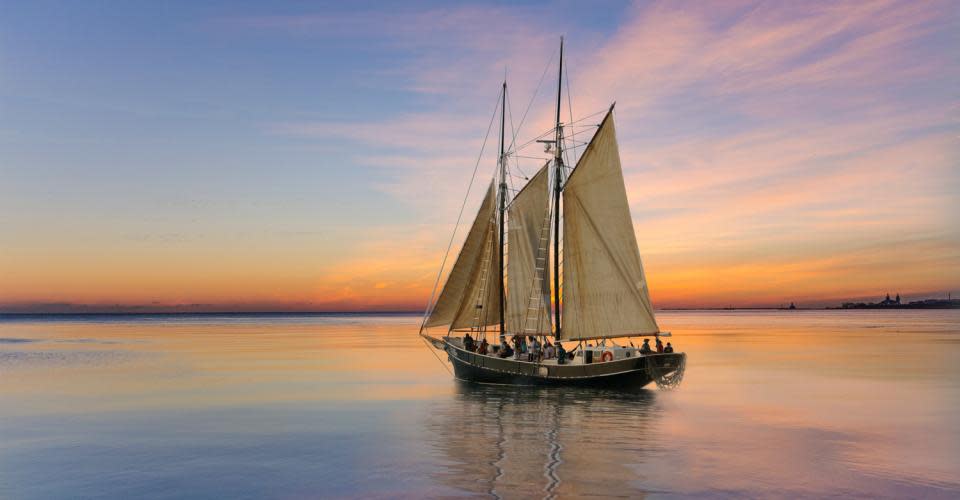 4. Life on the high seas
Much of Broome's mystique harks back to the days when the timber pearling luggers plied their trade on the waters off the coast more than a century ago in search of the prized Pinctada Maxima pearl shell.
Modern Broome was founded on pearling and while the luggers of yore are no longer doing active duty in this day and age, it's still possible to experience sailing aboard one of these craft on the waters of Roebuck Bay and Cable Beach.
Sailing aboard the 'Willie', one of the last operating pearl luggers in Australia, you won't be expected to endanger your life collecting pearl shell from the seabed with ancient diving apparatus, but rather relaxing in comfort, drink in hand, as you marvel at the sunset and passing sea life.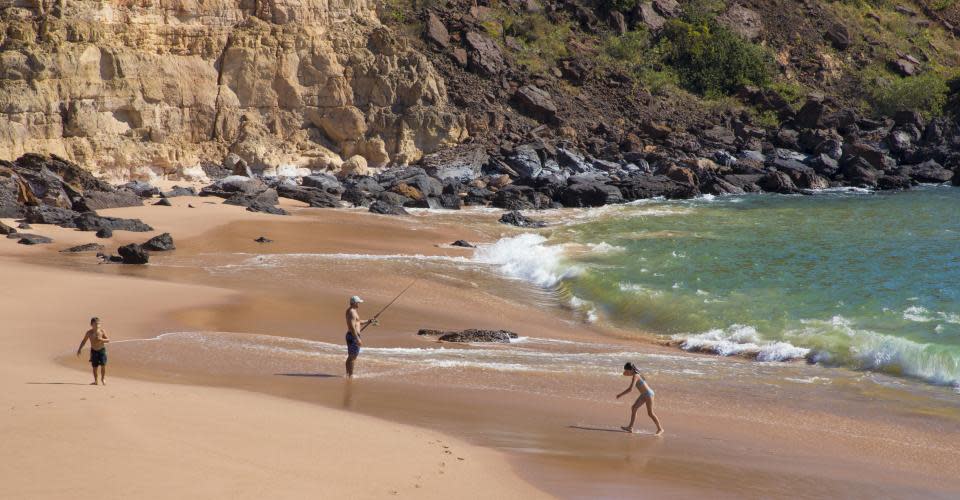 5. Experience Broome's 'backyard'
Stretching 200km north from Broome to Cape Leveque, the Dampier Peninsula offers a striking contrast of red pindan cliffs, white sand beaches and clear turquoise waters. creating the perfect backdrop for a unique cultural and coastal adventure. Along its length are dotted a multitude of out-of-the-way destinations, each more breathtaking than the last.
Cygnet Bay Pearl Farm offers a range of accommodation to suit all budgets, from camping to luxury eco-tents, and a range of once-in-a-lifetime experiences in Aboriginal culture, pearling, cruising and more. At Pender Bay, enjoy panoramic coastal views from your eco-tent or campsite at Goombaragin.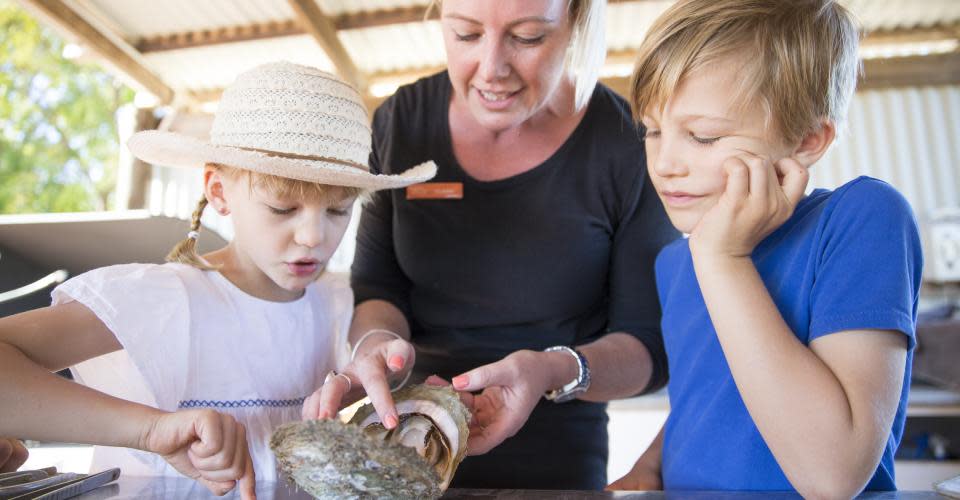 6. Broome in a pearl shell
From buttons and cutlery to the "queen of gems and gem of queens", Broome's story is forever entwined with the pearling industry, and this small town produces some of the world's finest pearls.
Discover the chequered history of this romantic industry from its perilous early days to modern methods of cultured pearling at Pearl Luggers, on a guided tour, by following the self-guided Jetty to Jetty Walk and Pearling Timeline, and visiting the Broome Museum.
See how cultured pearls are farmed on a pearl farm tour at Willie Creek or Cygnet Bay, and view the spectacular finished product among the high-end jewellers in Broome's Chinatown area.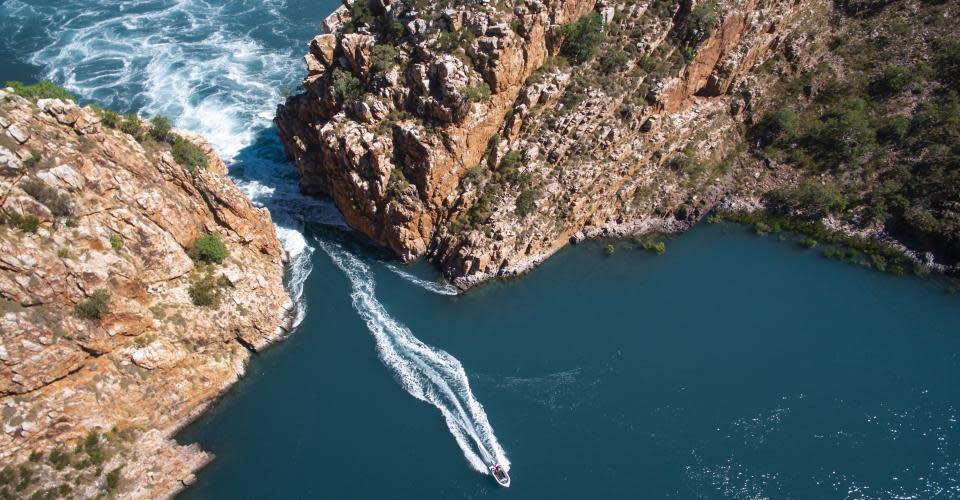 7. It's a waterfall – but not as you know it
Described by Sir David Attenborough as "one of the greatest natural wonders of the world", locals simply call it "the Horries". Flying out across the coastline to the remote Talbot Bay to witness the rapid-like formations of the Horizontal Falls is almost a rite of passage for visitors to the area. The powerful Kimberley tides reach more than 10m, and the direction of the flow reverses ensuring the water flows two different ways each day, creating an exhilarating boat ride through the rushing torrent! Tours depart from Broome and Derby, with options to fly over, or land for a fast boat ride, or if you're on a Kimberley cruise, you'll also drop in for some excitement!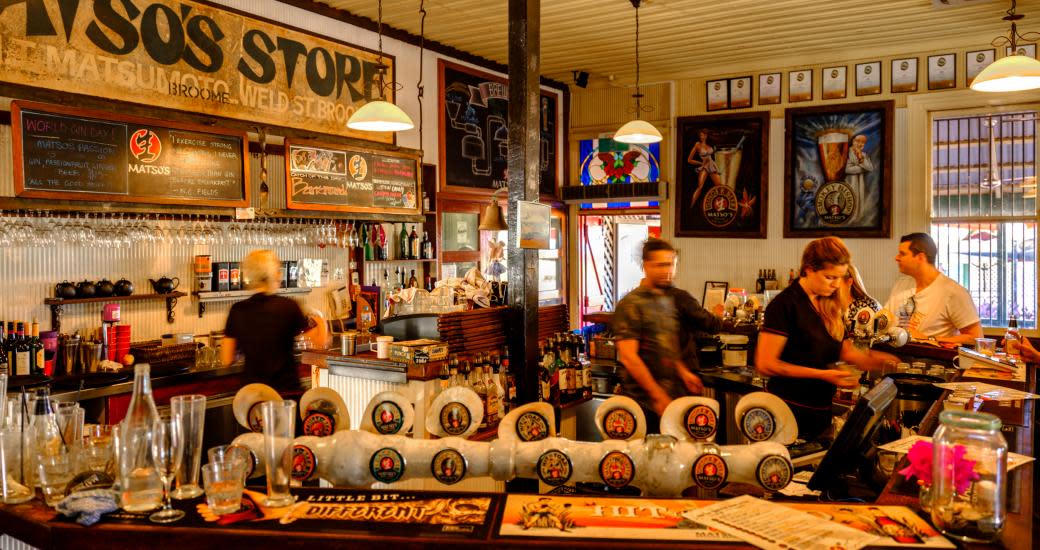 8. Eat, drink and be merry
Broome has a food and drink scene as diverse as its multicultural past - Chinese, Japanese, Indian, Malay, Thai, Indonesian, Vietnamese, Mexican, Italian and of course Aussie pub grub. Whether it's fine dining or a food van you're after, Broome has it all.
Experience award-winning craft beers at Matso's Broome Brewery and unique gins created from rare bush botanicals at Moontide Distillery. The full gamut of fine dining options are on offer at establishments such as The Aarli, Bali Hai Café, Cable Beach Club Resort's in-house restaurants and bars, the Mangrove Resort and 1861 at Oaks Broome. Taste Broome's favourite fruit at The Mango Place, and enjoy cocktails and dining at Wild Flower Broome.
But Broome's not the only option in the North West and you'll find standouts such as Kununurra's Hoochery Distillery and its choice rums, and other gastronomic gems just waiting to be discovered throughout the Kimberley and Pilbara.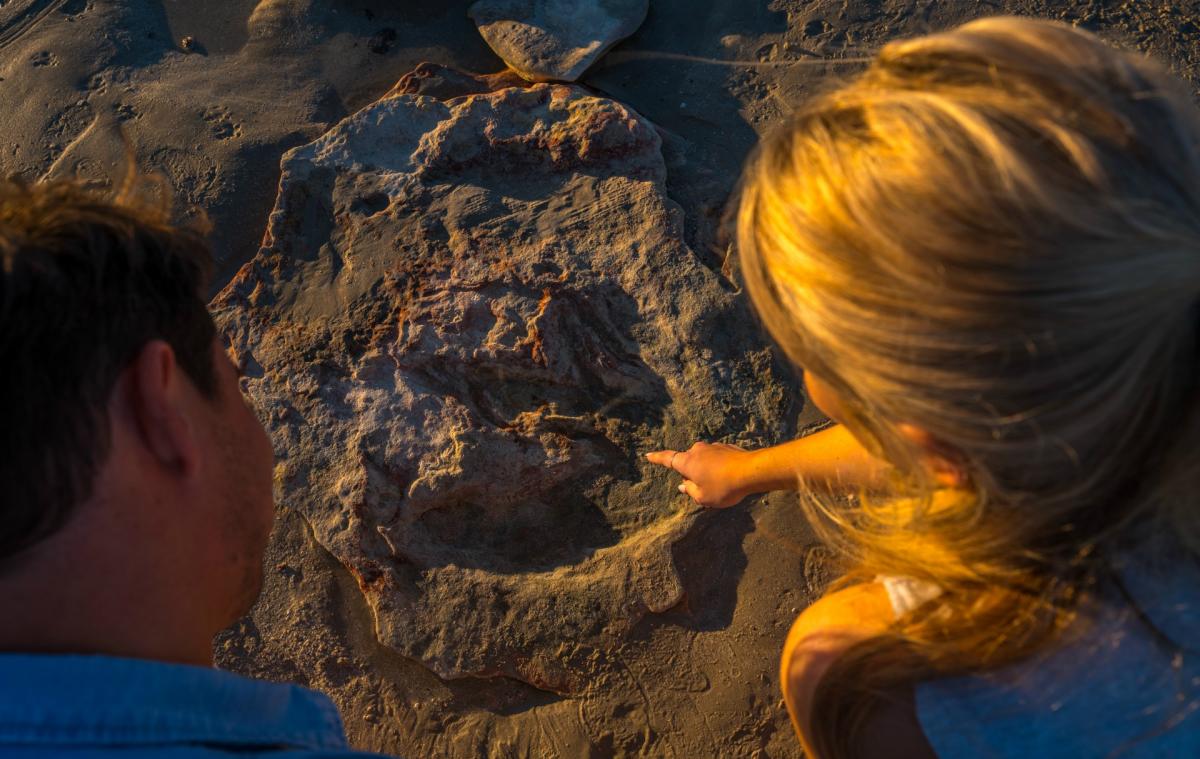 9. Journey to a land before time
Dinosaurs roamed the Kimberley coast 130 million years ago – and today their fossilised footprints can be seen embedded in the Broome coastline. Footprints can be seen at low tide around Cable Beach, Gantheaume Point and Reddell Beach from up to seven different dinosaur species from the Cretaceous period, including sauropods, ornithopods and stegosaurus.
Aboriginal people of the Dampier Peninsula and West Kimberley had strong cultural connections with dinosaur tracks, the footprints tracing the journeys of their ancestors.
Spotting the tracks can be a little tricky, so make the most of your trip and team up with an expert – join the crew at Broome Dinosaur Adventures, or Bart Pigram from Narlijia Cultural Tours for your chance to follow in the footsteps of dinosaurs!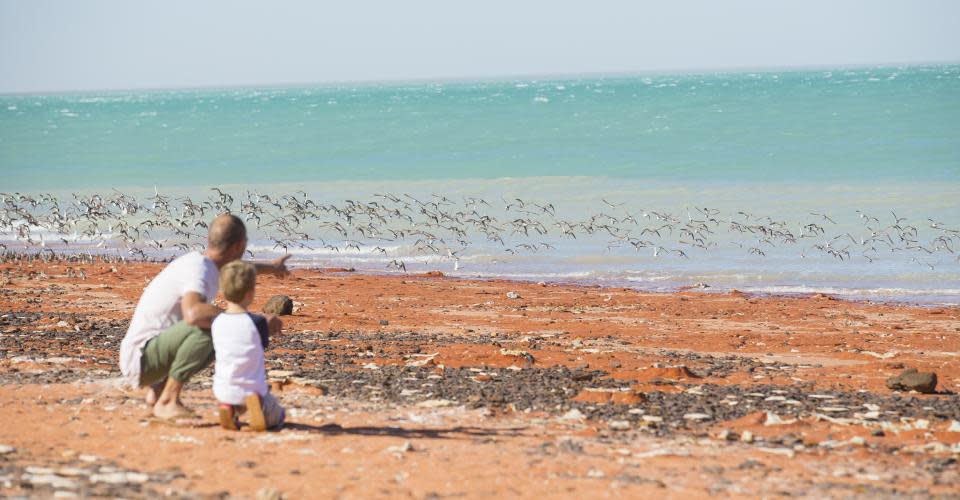 10. Discover the treasures of Roebuck Bay
Broome's townsite nestles on the tranquil shores of Roebuck Bay, and Town Beach is where visitors and locals alike all converge to experience it.
How special is Roebuck Bay? Well, half-a-million migratory shorebirds fly 11,000km each year from Siberia and the Arctic just to rest on its shores. Among Roebuck Bay's marine life is the Australian snubfin dolphin, which was only recognised as a distinct species in 2005, and they can commonly be found playing, swimming and foraging for fish in the waters of the bay.
It's also Australia's newest marine park - the Roebuck Bay Marine Park – and is known to the local Yawuru Aboriginal people as Yawuru Nagulagun, or Yawuru sea country, and is an important cultural place for fishing, hunting and gathering food and with important meeting places and middens along the shoreline.
On its seabed lies the wreckage of Catalina seaplanes sunk during the WWII air raid on Broome on 3 March 1942 that killed an estimated 100 people and was the second-greatest wartime loss of life on Australian soil. These wrecks are accessible on extreme low tides by foot or by hovercraft.