Danggu Geikie Gorge National Park
Due to infrastructure damage caused by the flooding of Martuwarra Fitzroy River in January 2023, Danggu Geikie Gorge National Parks and the boat tours will not open for the tourist season in 2023. 
Danggu Geikie Gorge National Park is a spectacular waterway with soaring weathered cliffs and abundant wildlife. Here the Fitzroy River cuts its way through the Geikie and Oscar Ranges on its way to Fitzroy Crossing.
The Devonian Reef National Parks of Windjana Gorge, Tunnel Creek and Danggu Geikie Gorge cover an area that was part of an ancient reef system over 350 million years ago. This remnant reef is seen today in the limestone ranges and gorges of the West Kimberley, and also in the Ningbing Range north of Kununurra.
Danggu Geike Gorge is the home to the Balga (freshwater barramundi), the rare Galwanyi (Leichhardt's sawfish) and Baya Gawiy (Coach Whip stingray).
WA Parks and Wildlife Service one hour boat tours are available from May to mid-October. Indigenous tours also offer an excellent insight to local Indigenous history and culture, including bush tucker and medicine.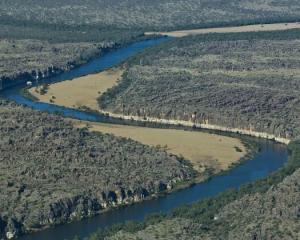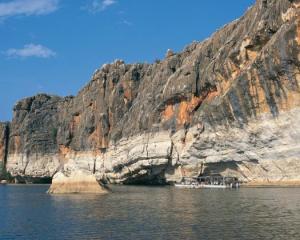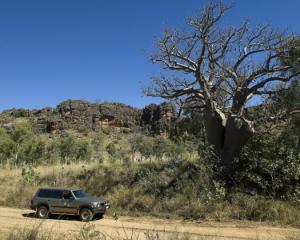 Walks
Jarrambayah Walk: this 4.4km trail takes you along the bank of the Fitzroy River to the eastern walls of the gorge, and offers good views of the limestone walls of the gorge. Allow 2 hours
Balili Rarrgi Walk: this is a short 1.6km trail which loops off the Jarrambayah Walk. This route showcases some of the remnants of the ancient Devonian Reef. Allow 1 hour. 
Bun.gu Trail: Learn of the local Bunuba people's knowledge of plants, animals and landscape by reading the signs along the way on the 1.2km trail. Follow the river downstream to above the sandbar (bun.gu walyarra) where the Margaret River meets the Fitzroy River. Allow 30 minutes. 
Larrgari Trail: Walk along the banks of the Fitzroy River to the savannah woodland in the upper of the flood plain. This trail connects with the Bun.gu Trail. A 1.75km loop - allow one hour.
Boats and Paddle Craft
Private boat and paddle craft users may use the boat ramp before 7.30am, from 12.15 to 2pm and after 5.15pm from May to October. Paddle craft are permitted in the Tour Boat Zone from 6.30am to 6.30pm. Please notify rangers before launching your boat or paddle craft.
Danggu Geike Gorge is the most accessible of the three Devonian Reef national parks, and may be accessed by 2WD from Fitzroy Crossing. Danggu Geike Gorge National Park is a day use area only, with facilities limited to toilets and an information shelter. No overnight camping is permitted.
20km north east of Fitzroy Crossing.