A guide on what to expect travelling around the region
Camping in the Kimberley is a remarkable way to experience one of the last great wilderness places on earth.
There's no better place to appreciate life in the slow lane than with a road-tripping adventure around the Kimberley. Not only a place to flip-flop along pristine shores but a place to have lengthy pit stops and strengthen your connection to country.
Both caravanning and camping in the Kimberley are wallet-friendly ways to experience the region's extraordinary sceneries day and night. Exceptional campgrounds are scattered around the area, allowing you to break up travelling long distances and enjoy the many one-of-a-kind encounters en route.
But before you hit the accelerator, use our handy guide to help plan your road trip around this enchanting region two billion years in the making.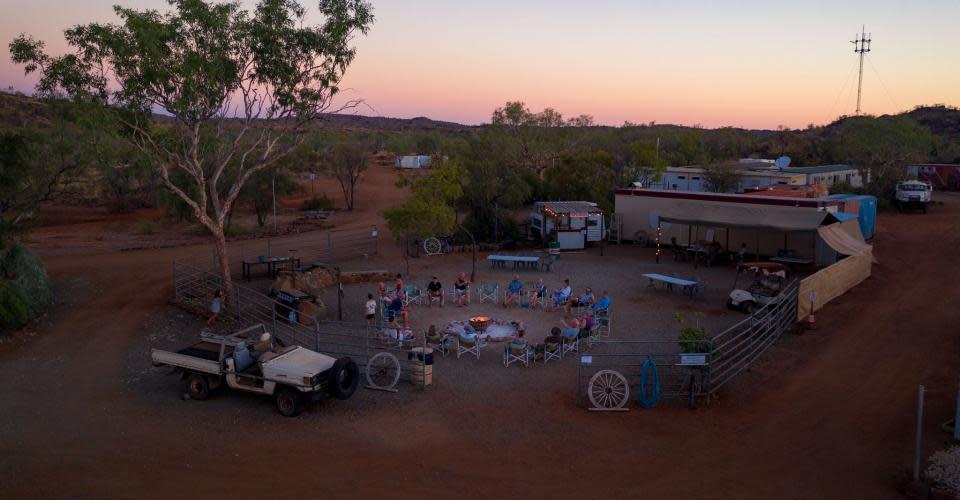 Climate
The Kimberley region experiences a tropical climate defined by two seasons: dry and wet.
We recommend planning your adventure during the dry/peak season from May to October for a comfortable stay, enduring better road conditions and tour availability.
The wet season occurs from November to April. During this time, humidity is high with rain, often a short downpour in late afternoons or heavy in evenings. Driving conditions may become dangerous, with road and park closures expected (see below).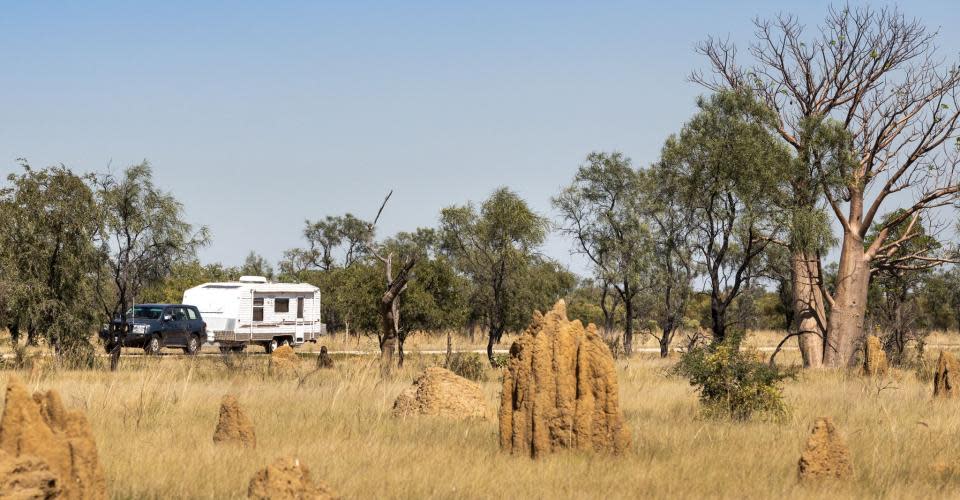 Road conditions and access
With its sheer remoteness and vastness, the Kimberley has a limited road network featuring both sealed and unsealed roads and some areas may require four-wheel-drive vehicles to access.
There are two ways to go east to west and vice versa in the Kimberley region. The Great Northern Highway is the only single-lane sealed road between north-Western Australia and the Northern Territory.
If wanting a topsy-turvy adventure across the Kimberley, the Gibb River Road provides just that. The legendary outback route stretches 660km between Derby to Kununurra and is mostly unsealed. Driving along the road is suited to confident and experienced drivers.
Another thing to bear in mind is depending on what time of year you visit; road access may be susceptible to dangerous weather conditions, particularly floods. To make sure you can safely get from point A to point B, visit Mainroads to see if there are any road closures along your planned journey.
Lastly, you may need permission from traditional land owners or station managers to access certain areas in the Kimberley.
Park Pass
No doubt when travelling around the Kimberley, you're going to visit a park – or several!
Entry fees apply to some of Western Australia's premier parks to help preserve these unique environments. To make your dollar stretch further and save you the hassle, consider purchasing pre-purchasing a park pass. A park pass allows unlimited entry to these parks over a specified duration, from five days to a year. 
Read more: Denise's tips for road tripping the Kimberley
Dump Points
The Kimberley region is one of the last great wilderness places on earth – so let's keep it that way. Adopt the mantra 'Leave no trace' to help preserve the region's pristine environment for generations to come.
Dump Points are located across the region, intended for caravans and recreational vehicles (RVs) to safely dispose of waste, including litter, sewerage, and grey and black water. These can be found in local caravan parks, designated public spaces and along major roads – just look out for blue and white signposts for litter disposal points and effluent dump sites. Although you might sight a hose at some dump points, properly read signage to discern if the water is safe to drink.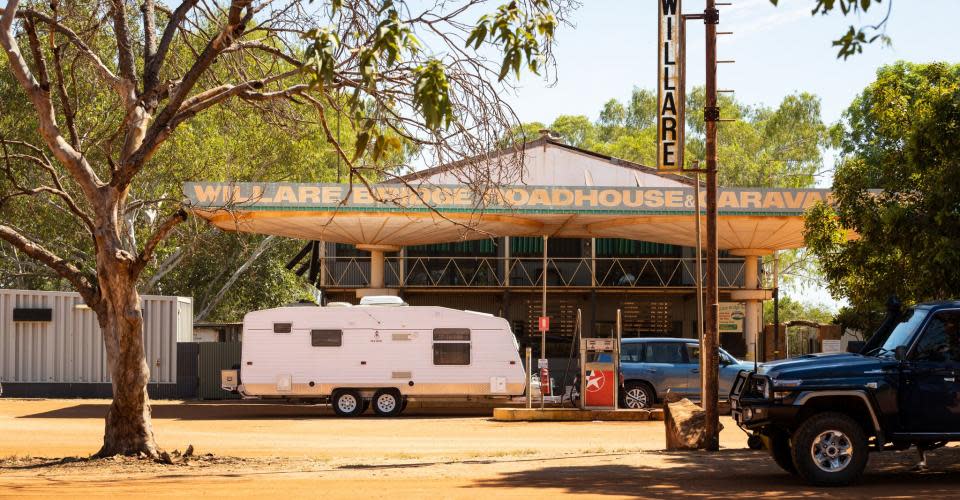 Petrol stations
Don't let the fuel light flash right before your eyes! Make sure to consider your fuel usage driving to your next destination and around national parks and reserves, as they can involve long distances.
Make sure to fill up your vehicle when leaving a roadhouse or town as petrol stations are few and far between in Australia's North West.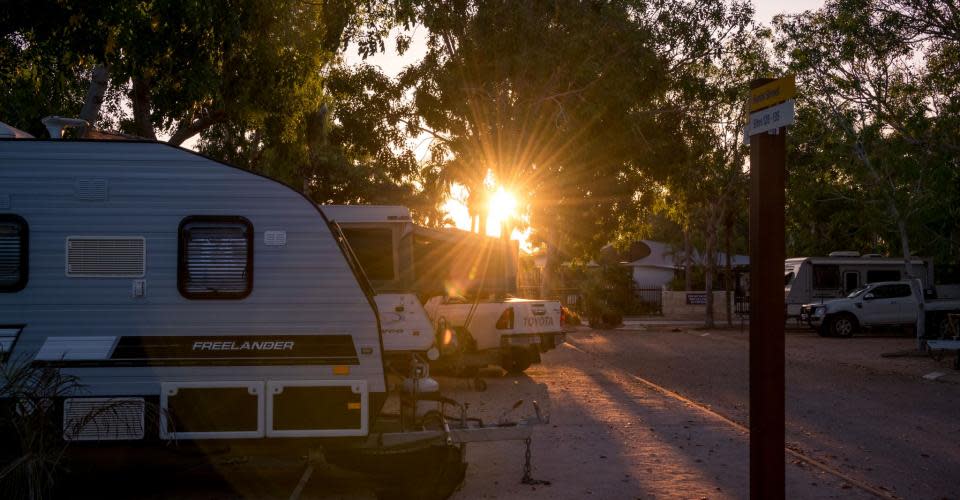 Fully serviced caravan parks and campgrounds
One thing that camping in the Kimberley can guarantee is camping with a view.
Pitch a tent or pull up the caravan along the foothills of ranges, creeks, and soaring fossilised reef systems, and be on the doorstep of World Heritage Wonders such as the Bungle Bungle; the region is hardly short on spectacular vistas. Even if calling it a night in a remote location, you can still experience a slice of civilisation amenities such as flushing toilets and hot showers, electricity, convenience stores, bar, and restaurants by choosing to stay in a fully serviced campground.
Here we list caravan parks and campgrounds in the region that can offer such luxuries.
North Kimberley
Kununurra
Lakeside Resort and Caravan Park
Lake Argyle
Lake Argyle Resort – Campground
Purnululu National Park (Bungle Bungle)
Bungle Bungle Caravan Park
Fitzroy Crossing
Derby
Broome
Broome's Gateway Pet-Friendly Caravan Park Lodge
Dampier Peninsula
Gibb River Road caravan parks and campgrounds
Balanggarra Home Valley
Parry Creek Farm Tourist Resort Caravan Park
There are also campgrounds managed by the Department of Parks and Wildlife, offering minimal amenities spread across the region, some for free and some with fees.
Discover the list of Department of Parks and Wildlife-managed campgrounds here.
Read more: Kimberley Accommodation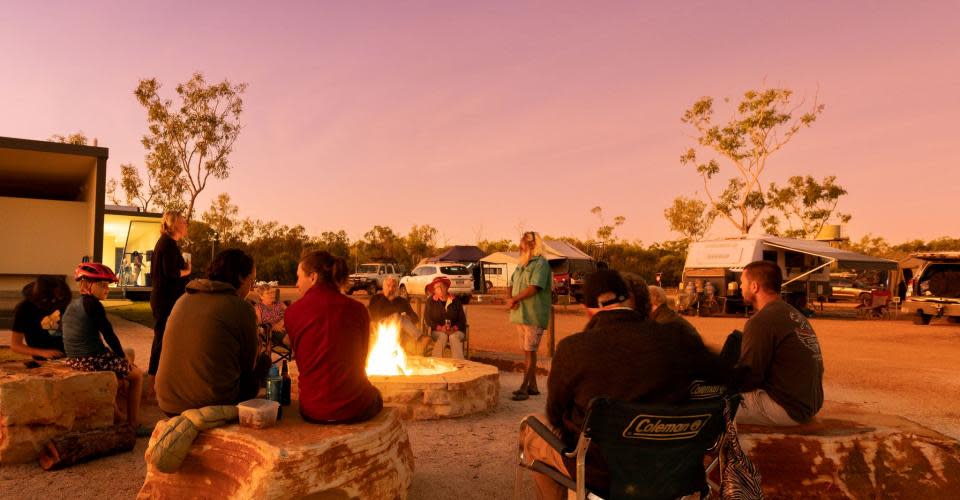 Camping with Custodians
Elevate your camping experience with Camping with Custodians. The campground network on Aboriginal lands is owned and operated by local communities.
Each campground gives campers the opportunity to engage with community members and gain insight into local culture. Whether gathering in a yarning circle and hearing stories from a local around the campfire under a night sky, learning to make damper, and making music, these experiences will deepen your connection to country.
Camping with Custodians campgrounds in the Kimberley
Enhance your Kimberley adventure by checking out what Kimberley tours are available.