Hamersley Gorge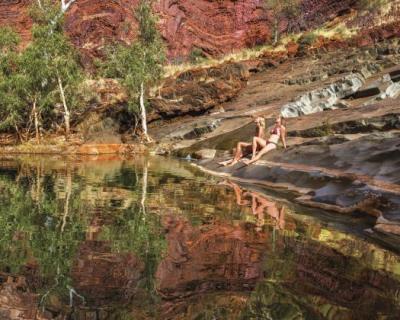 Hamersley Gorge Rd, Karijini National Park, 6751
Located in the north west corner of Karijini National Park, Hamersley Gorge is the most remote of the gorges.
It offers a tremendous view of folded bands of coloured ancient rocks, with stepped waterfalls at the base of the gorge.
From the trailhead, it is a 400m walk down roughly hewn steps to the gorge floor. Hamersley Gorge is somewhat wider than other gorges in the park, and offers more expansive views on the descent into the gorge itself. Here you will clearly see how the layers of rock bent and buckled before they pushed their way to the surface millions of years ago. At the base of the gorge, take a dip in the delightful gorge pool and relax in the shade of the trees.
A short walk from the carpark, a newly constructed lookout offers views of the gorge for those who don't want to undertake the trail into the gorge.