Parry Lagoons Nature Reserve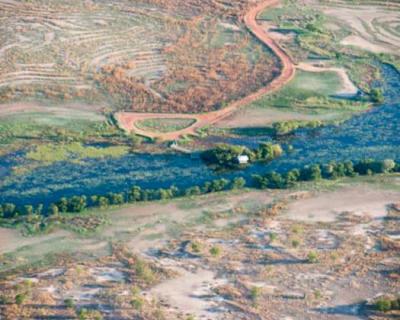 Parry Creek Rd, Wyndham, 6740
At Parry Lagoons Nature Reserve you can view a wealth of tropical birds and crocodiles from the bird hide and boardwalk at Marlgu Billabong.
The area is an important waterbird feeding and breeding area. It is also a stopover point for migratory waders, some of which travel from as far afield as Siberia. Over 160 species of birds have been recorded at Marlgu Billabong.
Both the boardwalk and bird hide are wheelchair accessible.
Access can be seasonal as the roads are prone to flooding in the wet.
The Parry Creek Nature Reserve is listed as a wetland of international importance under the Ramsar Convention and is listed on the Register of the National Estate.
Telegraph Hill
Telegraph Hill offers uninterrupted panoramic views of the dramatic and rugged landscape on the outskirts of Wyndham. You can see all the way out to the Cambridge Gulf on a clear day. Explore the site where the telegraph station used to stand during World War I and II. A short 800 metre walk with informational signage takes visitors through the remaining foundations of buildings that housed the station workers.
Parry Lagoons is accessed by unsealed track leading from the Great Northern Highway, 15km south of Wyndham and 85km north west of Kununurra. An information board is located 1km from the highway.  The reserve is usually accessible by 2WD, although access can be seasonal as the roads are prone to flooding in the wet.
On the road from Kununurra to Wyndham, you will find The Grotto, a deep gorge that can be reached by…
This concrete causeway was built over the mighty Ord River and remains in flow year round. The…
For sweeping views over Kununurra, the Ord River Irrigation Area and Mirima National Park, a trip to…
Make a stop at the Kununurra Museum to learn of the fascinating history of the local region. Run by…
The beautiful waters of Lily Creek Lagoon lie alongside the town centre of Kununurra.
Mirima National Park offers bushwalking and stunning views over the East Kimberley. The park is also…
Ranged around the town of Kununurra, the Ord River Irrigation Area consists of over 20,000 hectares…
The Ord River and its tributaries form one of the most significant waterways in Australia, producing…
An alternative route from Wyndham to Kununurra is along the unsealed Parry Creek Road. The…