The Epic Pilbara Road Trip
Discover the real identity of the Pilbara in this epic road trip.
Taking you to the best of the region's national parks, coastal islands and historic areas from 40,000-year-old Aboriginal rock art to a 150-year-old pioneer ghost town.
From Karijini to Karratha in a 4WD vehicle, this 10-day, 3-legged journey, is best experienced from April to October.  For the ultimate road trip coincide your timing with the incredible Karijini Experience festival which occurs around Easter each year.
Try to book accommodation and tours at least 6 weeks in advance to avoid any disappointment, as the best experiences will often book out fast!
Starting Destination - Karijini National Park
Leg One - Karijini to Cheela Plains Station 
Leg Two - Cheela Plains Station to Mackerel Islands via Onslow
Leg Three - Onslow to Dampier via Karratha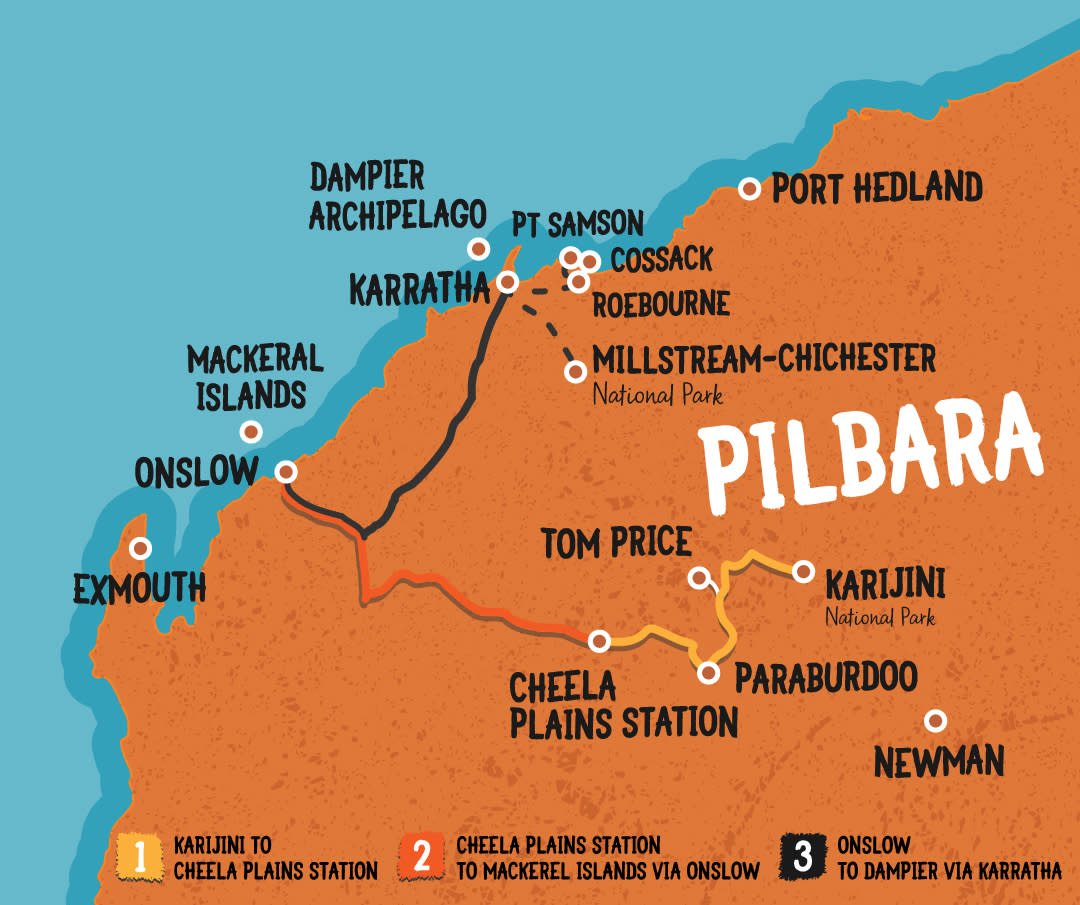 Your starting destination - Karijini National Park
Getting there:
By car: Already on the road?  Contact the Tom Price Visitor Centre for all you need to know, from directions to accommodation, attractions and specific Karijini gorge information too.
By plane:  Paraburdoo is the closest airport.  Qantas flights depart Perth to Paraburdoo every day.
By coach:  Integrity Coach Lines offers a Hop On Hop off pass throughout the West Coast travelling north or south at affordable prices.
Car hire:
Call Pete at The Flying Sandgroper for a good deal on 4WD hire to pick up from Paraburdoo Airport, dropping off at the final #EpicPilbara destination of Karratha. You'll also find some other car hire options at the airport, but it's essential to book in advance. 
Explore ancient landscapes and plunging gorges at Karijini National Park.  Paddle through crystal-clear waterways and swim under stunning waterfalls.  Discover the most amazing scenery in this incognito paradise.  To make the most of the experience, join a guided tour which will take you straight to the best of Karijini.
Accommodation Options:
(We suggest a minimum stay or 2 nights)

Karijini tour options:
Lestok Tours
The Flying Sandgroper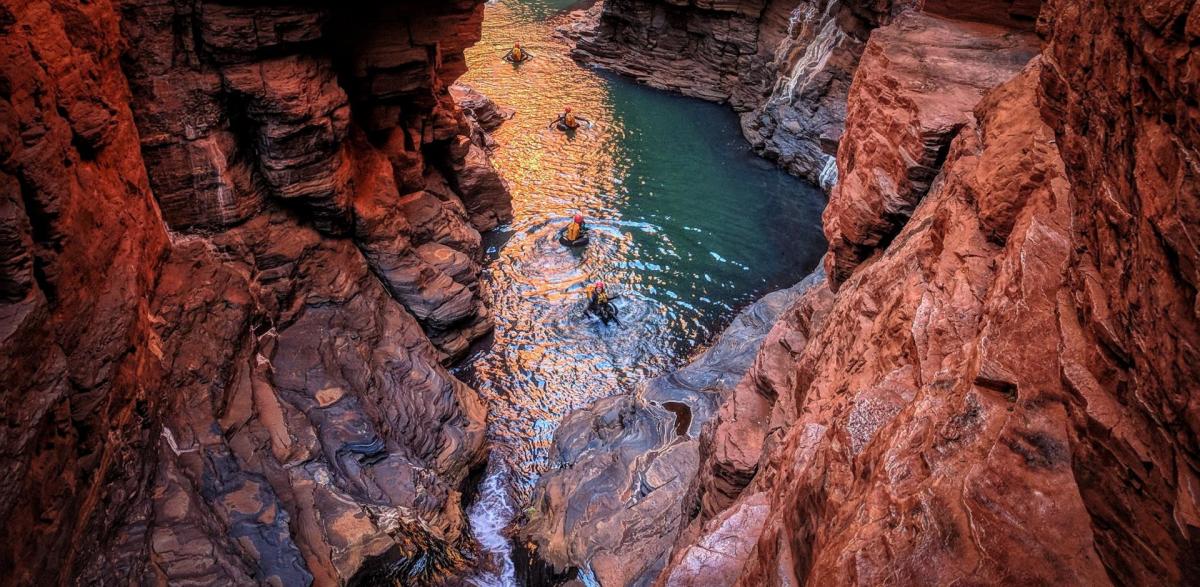 Karijini canyoning adventure with West Oz Active Adventures
Leg 1: Karijini to Cheela Plains Station 
(2 hours - Fuel up at Tom Price!)
Enjoy canapes at sunset and a bubbles or two, if you so desire, at the lookout with a stunning 360-degree view of the surrounding ranges followed by a hearty home-cooked meal at Cheela Plains Station where Evan and Robin invite you to be their guest on this working cattle station.  Join them for a full day gorge tour and stay for a second night for free.  You might even learn a thing or two about the universe as you view the incredible Milky Way through a brand new state of the art telescope!
Accommodation: Cheela Plains Station Stay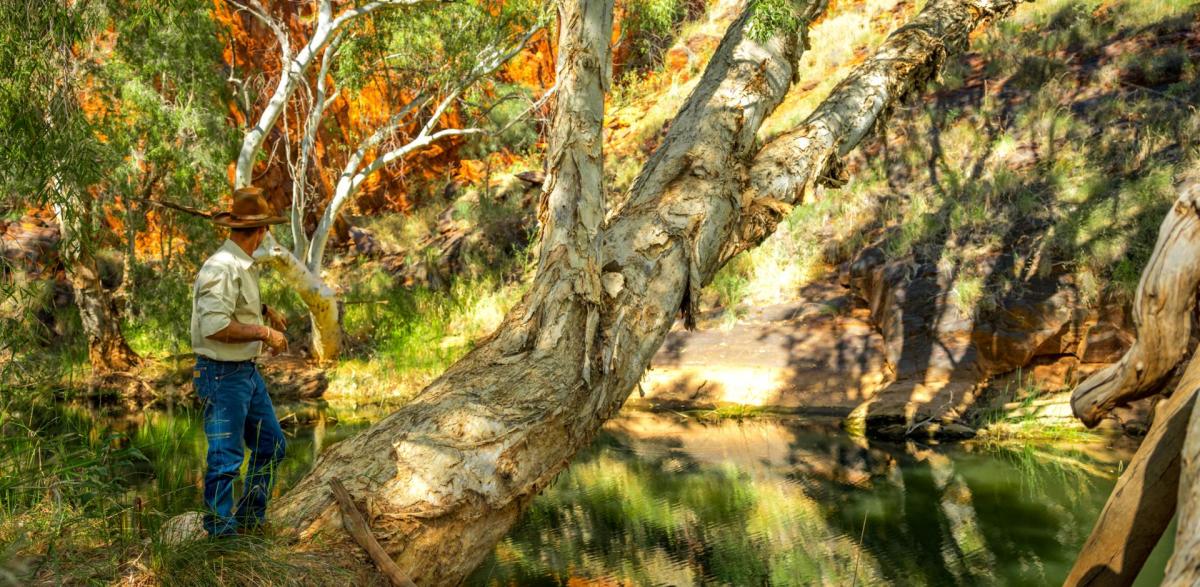 Cheela Plains Station 4WD Tour
Leg 2:  Cheela Plains Station to Mackerel Islands via Onslow
(3 hours 40 mins - Fuel up at Onslow!)
Onslow is a pretty coastal town, full of hidden gems and one of the few places in the country where you can witness both sunrise and sunset over water. Pull up stumps here for the night and spend the afternoon exploring on the Old Onslow Heritage Trail. Try to time your stay in Onlsow to coincide with the Staircase to the Moon which you can view from First Avenue. Contact the Onslow Visitor Centre for some other tour options where you may just discover some local characters and other secrets too!
Accommodation options:
Or if you want to pitch your tent try Peedamulla Campground just before the Onslow turnoff.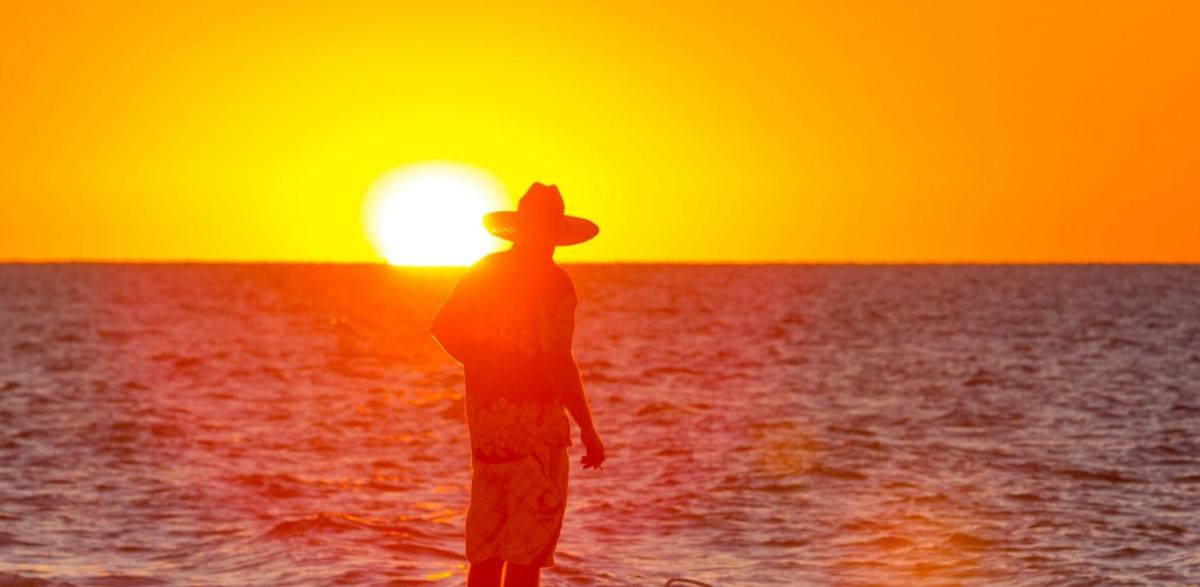 Sunrise near Onslow
Mackerel Islands
Leave the car at Onslow and jump aboard the quick scenic flight for a unique aquatic adventure in the Mackerel Islands, with accommodation options that range from one bed in 'Club Thev', to a cabin with an entire island to yourself! Explore the Islands on a self-guided tour with a range of activities and equipment hire, or join one of the guided tours including fishing, scuba diving, kayaking or whale watching. You will find it very hard to leave the simple island life there…and the food – wow, a real gastronomic surprise.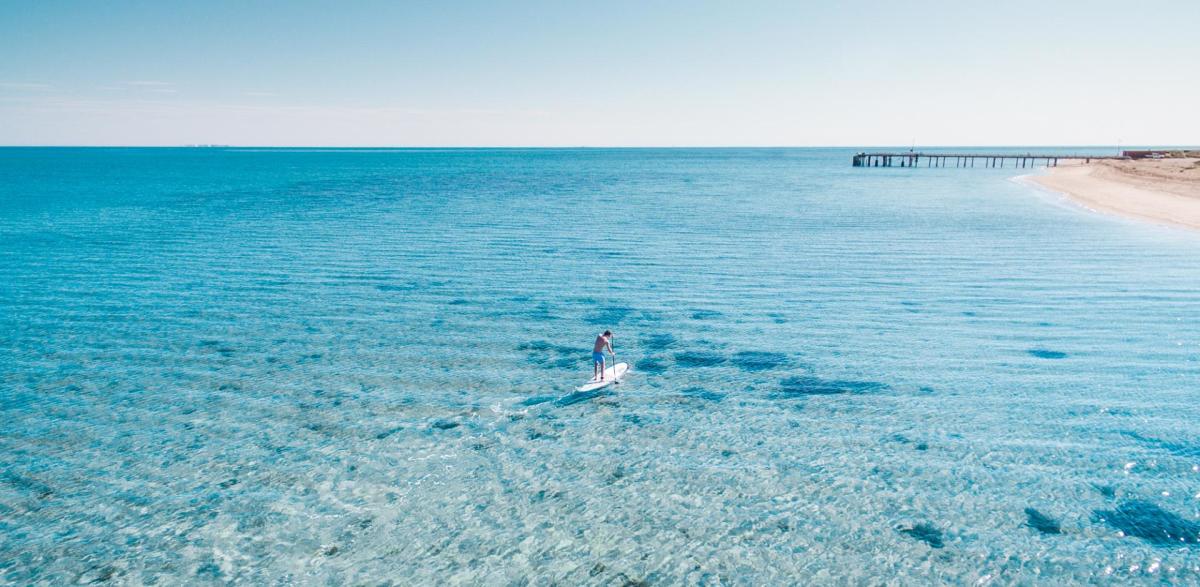 Mackerel Islands ,Thevenard Island
Leg 3:  Onslow to Dampier via Karratha
(3hrs 15 mins)
Jump back in the car in Onslow and head north to Karratha, the perfect base to explore the natural beauty of its surrounds including ancient Aboriginal rock engravings on the Burrup Peninsula, the Dampier Archipelago and Millstream-Chichester National Park.  You will discover more waterholes, gorges and rock art than ever imaginable!
Accommodation options
Best Western The Ranges Karratha
Discovery Parks Pilbara Karratha
Ibis Styles
(We suggest a minimum stay of 3 nights)
Dampier Archipelago
A coastal wonderland comprising of 42 islands and islets off the coast of Dampier and Point Samson, discover the Dampier Archipelago via air or water. See the islands from above with HeliSpirit who'll offer you a bird's eye view in a helicopter scenic flight.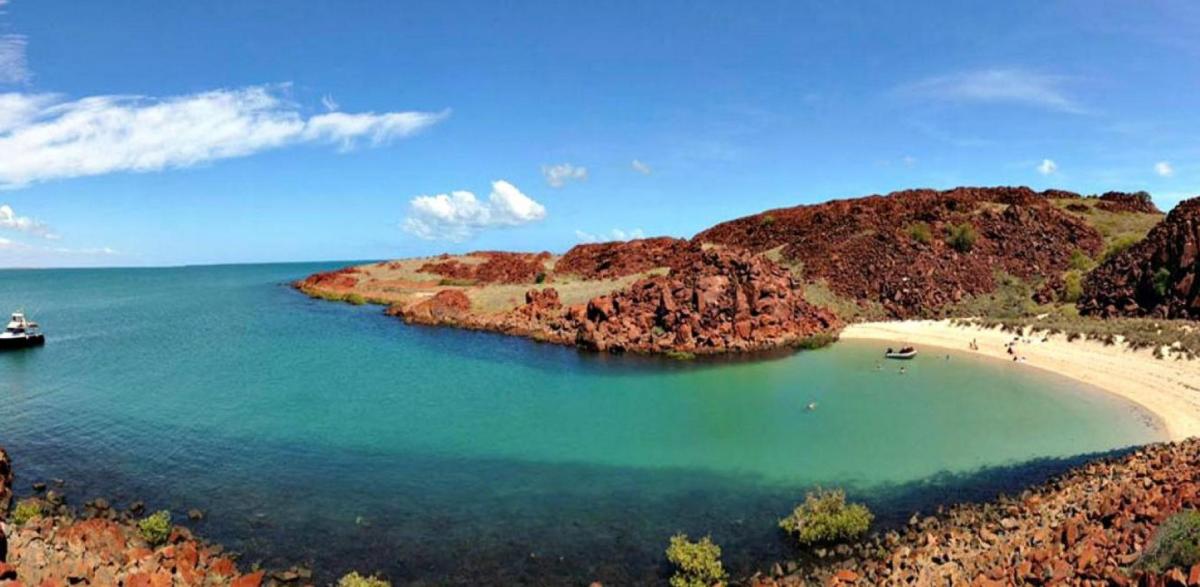 Dampier Archipelago
Rock Art Tour
The Murujuga National Park has the highest concentration of rock art in the world with petroglyphs (rock art) created by the Yaburrara (Northern Ngarluma) people dating back to 40,000 years.  Be mesmerised by the stories of the dreamtime with Clinton, a descendant of the Ngarluma and Yindjibarndi people on the Ngurrangga Tour, or join the traditional owners on a brief 1.5 hour Murujuga Rock Art Cultural Experience.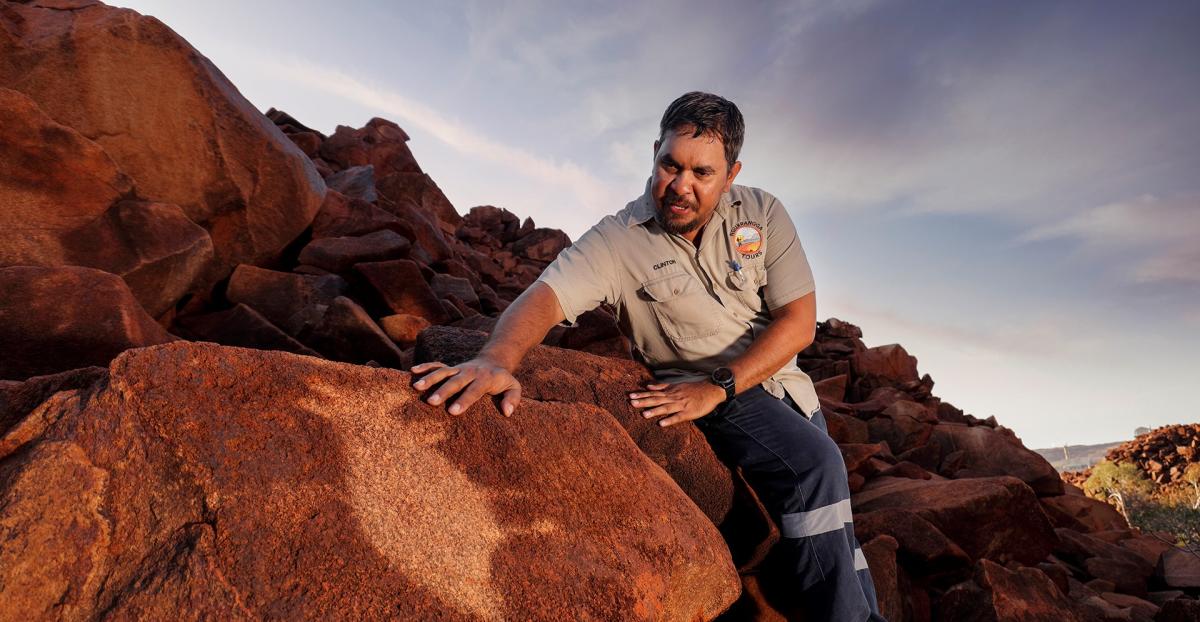 Murujuga Rock Art
Cossack Heritage Trail
The original port of pearls before the luggers moved north to Broome in 1886, Cossack was an early hub for gold prospectors in the region, and a port for pastoralists in the Pilbara.  Following the opening of Point Samson jetty, the town was dissolved in 1910 and abandoned by 1950. The beautifully restored bluestone buildings in the ghost town of Cossack are testament to this small town's huge importance in 1880's and 1890's and offer a fantastic insight to the hardships and successes of the first settlers.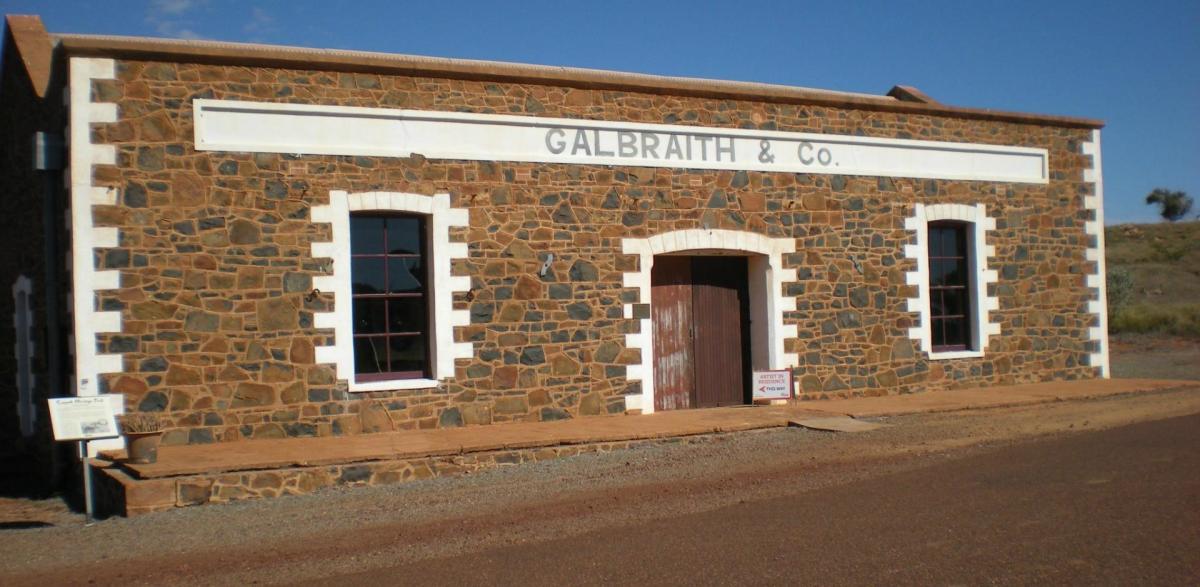 Cossack Heritage Trail
Millstream Chichester National Park
Feel the stress dissipating  in a landscape of rolling hills, escarpments, tree-lined rivers and water pools at Millstream Chichester National Park.  Covering an area of approximately 200,000 hectares around the Fortescue River – the heartland of the Yindjibarndi people - this lush oasis of deep gorges and palm-fringed rock pools provides a stark contrast to the surrounding landscape of rocky escarpments and rolling spinifex-covered hills.  Choose your own trail from the Millstream Homestead Visitor Centre or join the guided 'Barrimirndi Day tour' with Clinton from Ngurrangga.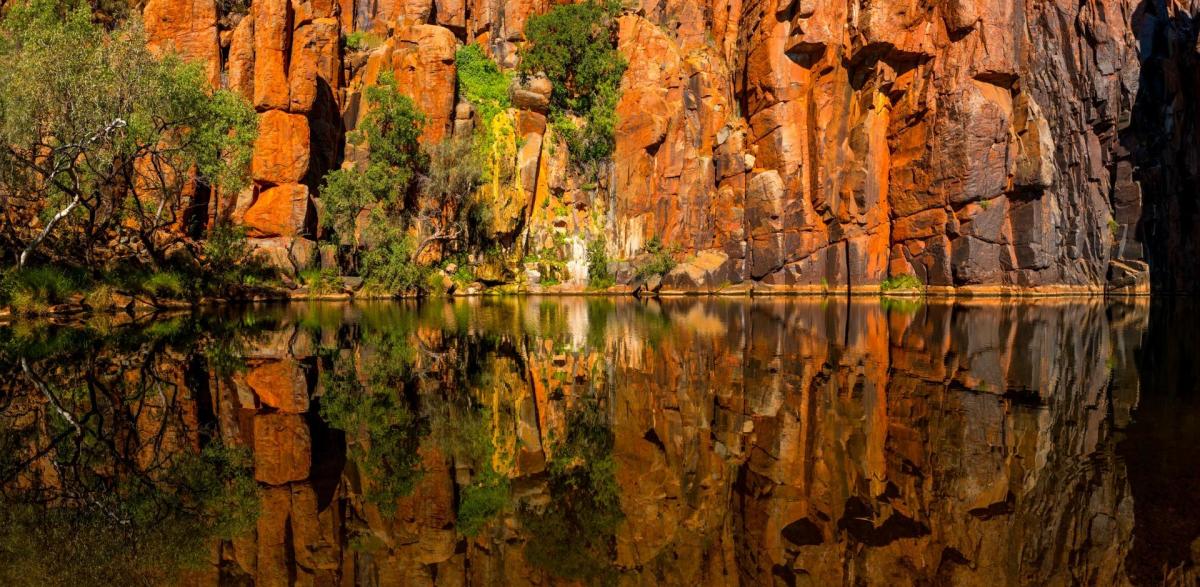 Millstream Chichester National Park
Point Samson
Some of Western Australia's best beaches, coral gardens, fishing sports and restored heritage buildings can be found on the Point Samson Peninsula and its surrounding islands.  Point Samson is accessed via the Roebourne/Point Samson Road, off the North West Coastal Highway in Reobourne.  A relaxed and picturesque coastal village famous for its fish and chips and delicious fresh seafood, we recommend you add a cheeky extra leg to your road trip and stay at The Cove Holiday Village and enjoy a day (or two) of fishing.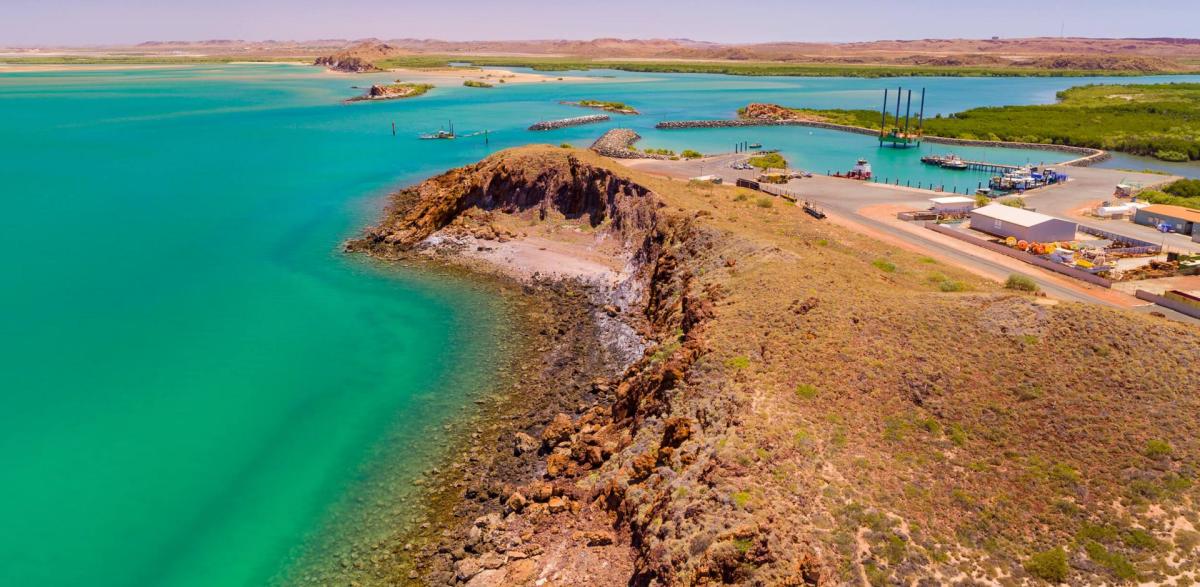 Point Samson