Purnululu - Bungles 2 day itinerary
There's so much more than just the Bungles to explore in Purnululu National Park it can be hard to know where to start! Professional wanderers and travel experts Charlotte and James Maddock are big fans of Australia's North West and have a special love for the Bungles. Here they share their recommendations for a two-day itinerary to help you start planning - including some of their favourite photographic locations. 
Day One
Drive in -> Visitor Centre -> Echidna Chasm -> Osmand Lookout -> Mini Palms Walk -> Set up at Walardi Campground or check into your accommodation -> Sunset at Piccaninny Creek -> Walardi Campground/Accommodation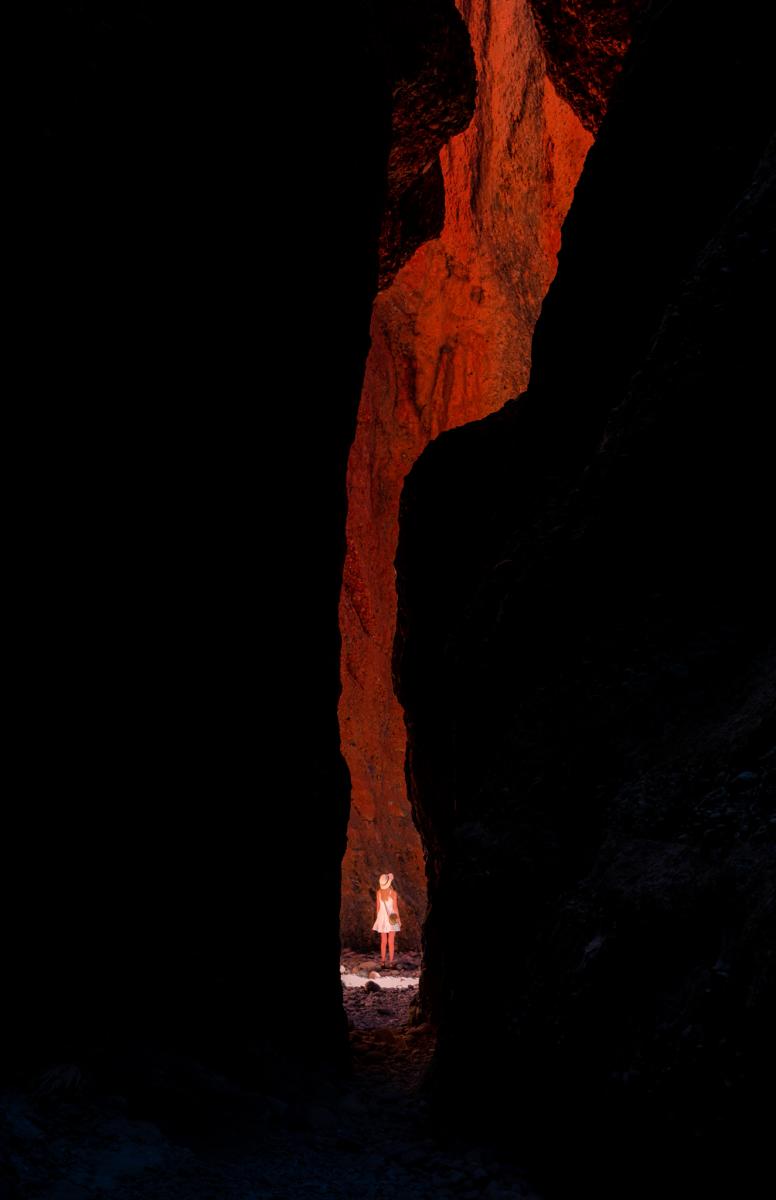 Drive into the Park as early as possible (allow yourself two to three hours to do this drive comfortably).  Note, most people typically enter the Park around 8am-9am, and those departing usually leave around 10am. The road is narrow for the most part, so if you're driving during these typically busier times, be sure to keep as far left as possible.
Once you arrive in the Park, stop in at the Visitor Centre, have a chat with the staff and grab yourself a map.
Using your map, head to the North side of the Park, aiming to get to Echidna Chasm carpark around 10-10:30am. An easy-moderate 2km (return) walk will take you into the 200m high chasm and you want to be there well before it's halfway through the day (halfway through the day is not to be confused with midday!). Echidna Chasm is a truly spectacular narrow chasm and during the middle of the day, the sun beams onto the chasm walls, turning them into an incredible fiery display. The Chasm get a bit busy at this time (and rightly so!), so you will be grateful to get there early! For reference when we visited in the middle of July, the peak time to see the chasm light up was about 11am.
After Echidna Chasm, head back to your car, pack yourself some lunch and walk to Osmand Lookout. There is a picnic bench at the end which provides a brilliant view of the rugged Osmand Range (although note – there is not much shade on offer). Alternatively (if it's hot!), you can eat your lunch in the Echidna Chasm carpark as it boasts several benches and (very welcomed!) shade sails.
If you are interested in seeing an Aboriginal fertility cave and flashes of vivid green against the bright orange Purnululu backdrop, the 5km return walk to Mini Palms Gorge is one you won't want to miss. (You can start at the Echidna Chasm carpark, but if it's too hot, you can also drive to the Bloodwoods carpark and start from there [as this makes it shorter]). The Livistona Palms create a uniquely tropical feeling in the Park – don't forget to look up and spot them all!
Once you're all walked out, drive towards the Walardi Campground area. This drive is approximately 27km (and can take longer than 30 minutes as you're essentially driving from one side of the Park to the other). Here in the southern end of the park you'll find Walardi Campground (one of the National Park Campsites), as well as two great accommodation options - the Bungle Bungle Savannah Lodge (see below) and the APT Bungle Bungle Wilderness Camp. Once you've set up camp or checked into your accommodation, it's time for a short relax before sunset.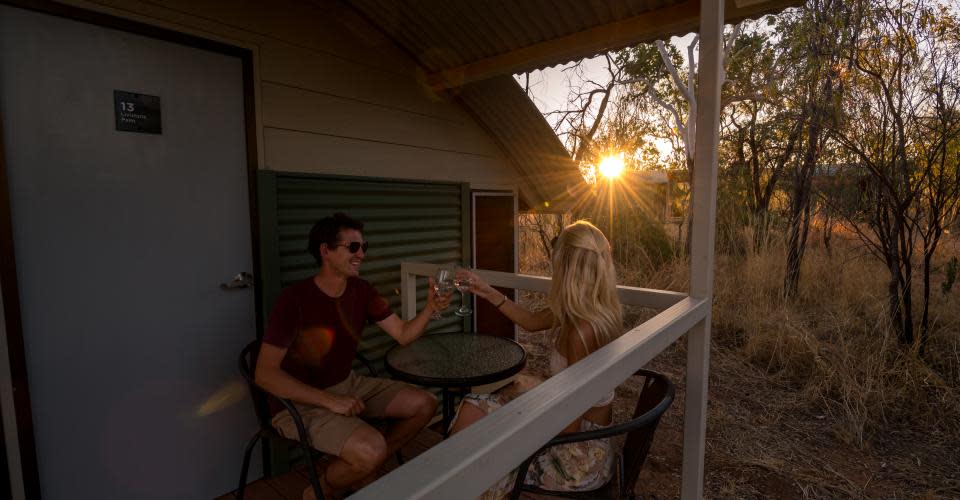 Cabin at the Bungle Bungle Savannah Lodge in Purnululu National Park. Image: CJ Maddock/Kimberley Experience Group
Two hours before the sun is set to go down, pack a few snacks, and drive over to the Bungle Bungle Range (what you've been waiting for I'm sure!). Make sure you spot the Elephant Bungle on the way! Park at Piccaninny Creek carpark, and walk the 2.8km (return) walk to Piccaninny Creek Lookout. This is a beautiful spot to sit and watch the sun go down, and we suggest getting there well before the sun sets, as watching the last light hit the Bungles is truly breathtaking (you will most certainly want to pack your camera!!).   
After you have marvelled at the sunset, head back to your accommodation or campground, have dinner and get yourself some shut-eye.
Optional – night-time activity
As you walk back from your sunset expedition at Piccaninny Creek Lookout, stop and watch the stars rise along the creek bed. We love the set of Bungles on the south east side of Piccaninny Creek – you will see them just before you take the side track to Piccaninny Creek Lookout (when approaching from the carpark). We also think these Bungles are very 'clean cut' for astrophotography if you fancy getting some pictures of the striped domes and twinkling stars above.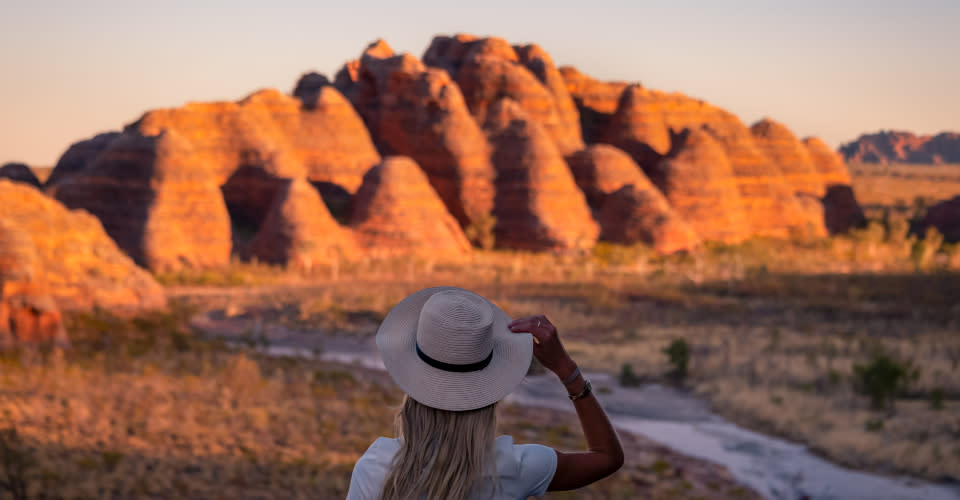 Picaninny Gorge, Purnululu National Park. Image: CJ Maddock
Day Two
Cathedral Gorge -> Piccaninny Creek  -> Relax at Walardi Campground -> Sunset at Kungkalanayi -> Walardi Campground
Wake up early and pack breakfast. Drive to Piccaninny Creek carpark again, but before you start heading to the lookout from yesterday, this time you want to take a different route, as you're off to see the incredible Cathedral Gorge (a 3km return walk from the carpark). Cathedral Gorge is an amazing natural amphitheatre formed of red rock, and when you visit early in the morning, not only will you most likely have the place all to yourself, but you will also see it light up as the early morning sun hits the gorge walls. Ideally you want to be in Cathedral Gorge approximately an hour after the sun has risen. Sit here, take it all in, and eat your breakfast. No doubt you will want to test the acoustics too!
After marvelling at Cathedral Gorge, walk along Piccaninny Creek while you still have a bit of the early morning breeze. This was our favourite walk in the entire Park – and it's really one you can tailor to suit your own desires – simply walk down the creek bed as little or as long as you like. The walk is very open so you will want to make sure you are lathered up with sunscreen. You will pass 'The Window' on your way, and have the option of a side trip to Whip Snake Gorge, although we personally found the creek itself to be better in terms of scenery.
Once your camera roll is full of pictures of the limestone domes, head back to Walardi and relax for a few hours. Keep your eyes and ears out, as there is an abundance of wildlife in the Park – the ranger told us there are 149 bird species, 81 different reptile types and even a rare Wallaroo (we're still hoping to spot one of these!).  
After you have relaxed, pack yourself another picnic, and drive to Kungkalanayi (which means lookout in local Aboriginal language). This is near the Visitor Centre and offers a truly gorgeous spot to watch the sun go down. The lookout provides an exceptional view of the Bungle Bungle's western face, and as the sun sets, the mountain face turns ablaze (which looks amazing against the backdrop of soft pinks and purples in the sky). Now, this spot does get quite busy at sunset, especially with tour buses, so again, leave a little earlier if you can so you're able to secure yourself a nice quiet spot. We suggest bringing your own picnic blanket so you don't need to rely on a bench being available. This is a relatively easy 500m walk (although uphill) and should only take 10-15 minutes (one way).
After you have marvelled at another beautiful Purnululu sunset, head back to your campsite or accommodation.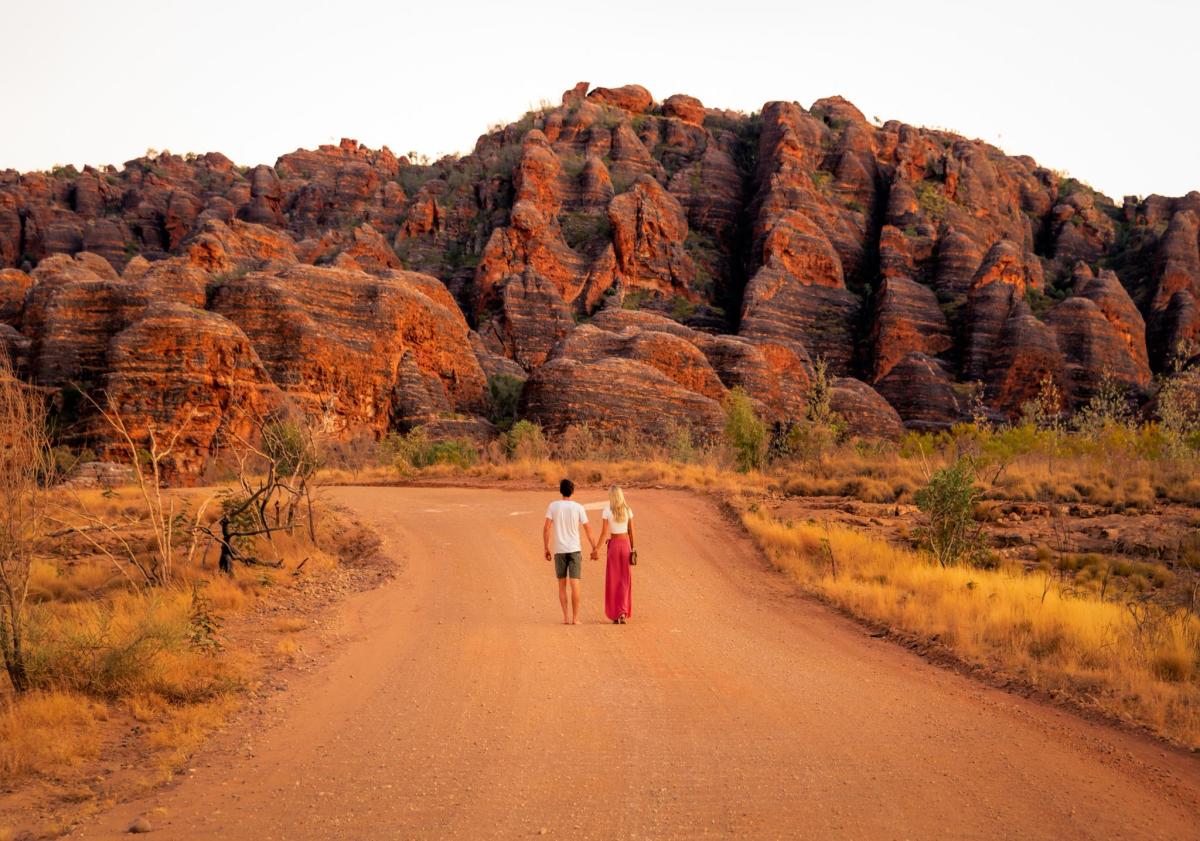 Views of the Domes in Purnululu National Park. Image: CJ Maddock
Optional night-time activity
If you enjoyed watching the stars rise above the Bungles in Piccaninny Creek last night, there are two other starry spots that we love - Cathedral Gorge (where you were this morning) or Osmand Lookout (where you may have had lunch on your first day!).
If you decide on Osmand Lookout, go straight from sunset as you are almost half-way there (30km from Walardi and 17km from Kungkalanayi).
Optional – for a third/fourth night
Depending on how long you have in the Park (and how adventurous you are!!), there is a multi-day hike called the Piccaninny Gorge trek that is absolutely stunning. To do this walk, you follow the creek bed as far as it goes and then have the option of exploring the five "fingers". We did this as a one-night hike but exploring the fingers and walking all the way back out with heavy packs (particularly on soft sand!) was rather tough on the legs (we walked over 25kms that day). We think two nights would allow for a more enjoyable pace! Given the number of rescues that have occurred here, you must register for this walk at the Visitor Centre first and hire a personal locator beacon (PLB) if you don't have one. It's definitely not for the faint-hearted, but it's an absolutely surreal experience. If you're thinking of doing this trek, have a chat with the friendly Visitor Centre staff when you first arrive as they gave us some great tips before we set off!
There is no experience that can match a stay near the Bungle Bungle Range. Here in Purnululu…
The Parks and Wildlife Service operate two campgrounds within Purnululu (Bungle Bungle)…
APT's Bungle Bungle Wilderness Lodge is located in the heart of World Heritage-listed…